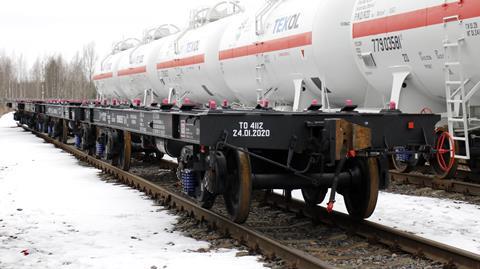 EUROPE: Polish company Laude Smart Intermodal has awarded United Wagon Co a contract to supply a further 200 Type 13-6851-01 flat wagons for carrying heavy duty containers on the 1 520 mm gauge Russia – Poland corridor.
The latest batch of wagons is scheduled to be delivered by the end of May 2020. This will take Laude Smart Intermodal's fleet of vehicles produced at UWC's Tikhvin plant to 641 Type 13-6851-01 broad gauge wagons and 200 Sgmmns wagons for 1 435 mm gauge routes.
The Type 13-6851-01 wagons have 25 tonne axleload Type 18-9855 bogies, reinforced frames and container locks giving a maximum loading capacity of 80 tonnes. They are designed for a service life of 40 years, with overhaul intervals of up to 1 million km or eight years.
'The operational reliability and improved technical specifications of the UWC cars give us significant advantages over our competitors', said Laude Smart Intermodal CEO Marcin Witzchak when the latest order was announced on February 13.