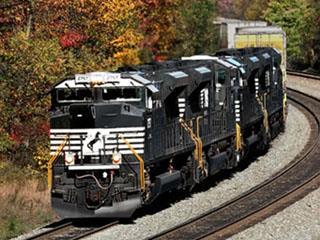 USA: The Heartland Corridor gauge enhancement project to provide faster transit times between Virginia's ports and Chicago was officially completed when Norfolk Southern operated the first double-stack intermodal service on the route on September 9.
The former Norfolk & Western main line across Virginia, southern West Virginia and Ohio had 28 tunnels in the Appalachian mountains and 24 other obstructions which forced double-stack trains to take a longer journey through Harrisburg or Knoxville. The three-year Heartland Corridor project eliminated these obstructions, cutting 320 km from the double-stack route and reducing Norfolk - Chicago transit times from three days to two.
NS had begun studies a decade ago but concluded that gauge enhancement, although desirable, would be too great an investment for the railway to justify on its own. However, the states were keen to see double-stack trains, and a PPP was established between Virginia, West Virginia and Ohio, the federal government and NS. The total cost was around $320m.
Hatch Mott McDonald undertook design work. The first phase of construction began in October 2007, with tunnel enlargement carried out by Johnson Western Granite, RJ Corman and LRL Construction.
Jim Carter, Chief Engineer, Bridges & Structures at Norfolk Southern Corp, described the Heartland Corridor project in detail in the April 2010 issue of Railway Gazette International.