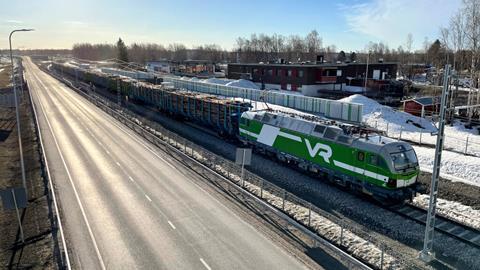 FINLAND: National freight operator VR Transpoint has launched a 'fine-tuned' service transporting round wood by train to Metsä Group's new Kemi bioproduct mill.
The mill is due to start operation in Q3 2023, producing 1·5 million tonnes of pulp per year along with 2·0 TWh of electricity, about 2·5% of national electricity production.
Rail traffic is estimated at 5 million m3 per year, with VR Transpoint to run eight to 10 block trains per day using a dedicated fleet of 400 wagons.
A dedicated line to the mill enables electric operation throughout. The operator's Siemens Mobility Vectron locomotives can handle loads of up to 2 500 tonnes, 20% to 25% per cent more wood per train than on services to the current Kemi mill which has reached the end of its life.
'Wood will be transported to the new Kemi mill from a much larger area than at present', said Hannu Alarautalahti, SVP Production at Metsä Forest. 'Although the average distance travelled by the roundwood deliveries is increasing, emissions are reduced by 20% per cubic metre due to effective railway transport.'
VR said it had planned the new service with a 'perfectly fine-tuned wagon rotation' and co-ordinated infrastructure development, enabling it to reduce the round-trip cycle time by a half.
'We have prepared this important project for several years', said VR Transpoint SVP Eljas Koistinen when the first trial train ran from Rovaniemi to the mill on April 21. 'Together with the customer, we have created a solution that seamlessly combines the mill's operations and rail transport.'