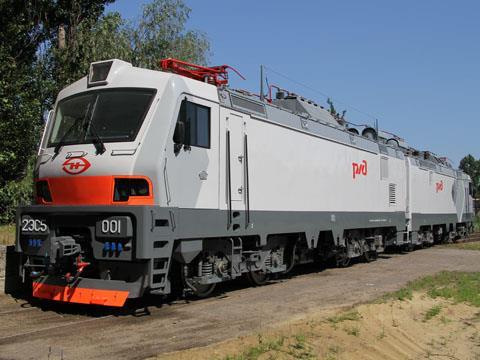 RUSSIA: A prototype electric freight locomotive designed by the TRTrans joint venture of Alstom and Transmash Holding has been completed at TMH's Novocherkassk plant.
The 2ES5 is a twin-unit 25kV AC electric loco designed for heavy freight work, and follows the EP20 passenger locomotive now being tested by Russian Railways. For ease of maintenance and staff training, the 2ES5 and EP20 locos share a similar internal layout and cab design.
TRTrans expects the twin-unit 2ES5 to be able to replace numerous three-unit locos currently in service.
The 2ES5 is rated at 8·4 MW and fitted with asynchronous motors and single-axle traction control. It incorporates a number of climate-specific features, including an oil-free piston compressor, and air purification and dehumidifying equipment. Glonass and GPS-based location tracking equipment is also fitted to allow drivers to monitor energy use and speed on long, heavy hauls.
Series production of a batch of 200 locomotives ordered by RZD is expected to begin in the first quarter of 2012.