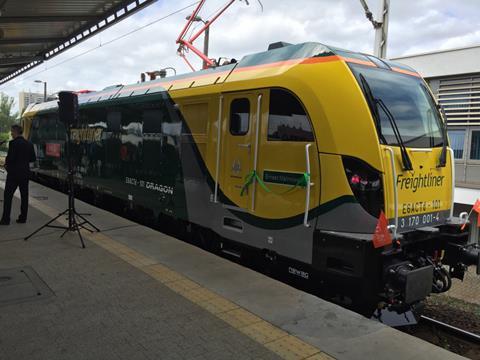 The European Bank for Reconstruction & Development and the Silk Road Fund, which has been established to implement China's Belt & Road initiative, signed a memorandum of understanding on June 15 for institutional co-operation and to inform each other of potential co-investment opportunities. 'Our regions have a funding gap of about US$400bn a year for necessary infrastructure investments', said EBRD First Vice-President Phil Bennett. 'A joint effort by all stakeholders is needed to bridge that gap and we see working with partners like the Silk Road Fund as the most efficient way forward.'
A cere­mony at War­szawa Wschod­nia on June 9 marked the formal handover of the first of five Newag Dragon locomotives ordered by Freightliner PL in January 2015. The six-axle elec­tric loco­mo­ti­ves with last-mile diesel engines are being finan­ced by ING Lease (Poland). 'Inve­sting in modern rol­ling stock is the only chance to repair the image of railway servi­ces, which are often asso­cia­ted with almost ancient, 50-year old rol­ling stock, unpre­dic­ta­bi­lity and low stan­dard servi­ce', said Freightliner PL President Kon­stan­tin Sko­rik.
Meeting on June 7-8, OTIF's Committee of Technical Experts adopted amendments to the UTP freight wagons and the UTP GEN-G on a common safety method for risk evaluation and assessment; agreed the 2016-17 work programme which includes transposing the Telematic Applications for Freight TSI into a UTP which would not be mandatory for non-EU states; and mandated a working group to produce a roadmap to promote interoperability. 'In light of the future silk route', OTIF says it is working on 'a uniform regulatory framework to interconnect the railway networks' of Europe and Asia.
Enea Group has awarded PKP Cargo a 37m zloty one-year contract to haul 1·25 million tonnes of coal from Silesian mines to its Kozienice power plant, and a 54m zloty 15-month contract to haul more than 5 million tonnes of coal from the Bogdanka mine in Lublin to its Kozienice power plant.
The Association of American Railroads and the American Short Line & Regional Railroad Association have submitted comments to the US Federal Railroad Administration objecting to plans to require two-person crews on many types of service. 'We are concerned that the burden of additional regulated labour cost, without an offset of improved safety, will lead to the diversion of scarce financial resources in our small businesses away from capital investments with a proven link to safety, such as infrastructure and track upgrades, ultimately making rail transport less competitive than other competing methods', said ASLRRA President Linda Bauer Darr on June 15. Meanwhile, the International Association of Sheet Metal, Air, Rail & Transportation Workers and the Brotherhood of Locomotive Engineers & Trainmen said 'regulators must ensure that a certified engineer and a certified conductor are working on every freight train', believing that 'a single crew member cannot perform these tasks and still maintain the highest safety standards.'
Rail Cargo Group is to launch a twice weekly intermodal block train between Gliwice in Poland, Sopron in Hungary and Istanbul-Halkali in Turkey on June 23.
Thailand's Ministry of Transport has established a rail freight development office in Bangkok.
In May PKP Cargo began operating three or four trains per week carrying coke from southern Poland to Nordrhein-Westfalen for JSW Group.
The government of Canada has postponed until August 2017 the repeal of certain provisions of the Canada Transportation Act that were enacted in 2014 by the Fair Rail for Grain Farmers Act. This delay is intended to allow the supply chain to plan for the coming year under predictable conditions, and to give the government the opportunity to fully assess recommendations from the Canada Transportation Act review panel.
TAZARA expects to have carried about 150 000 tonnes of freight by the end of the financial year in June, Deputy Managing Director Dr Betram Kiswaga said on May 20. This would be a 'remarkable improvement' on the 87 000 tonnes in the previous financial year. End to end transit times had been reduced from 30 days to less than seven days over the last 10 months, he said, adding that 'our customers are happy that we are now able to deliver freight within a week.' The governments of Tanzania and Zambia 'have taken up the burden of meeting our shortfalls in operational expenses', he explained. 'We now have a more stable labour atmosphere, with employees' salaries being paid on time.'
DHL Global Forwarding has signed a MoU to collaborate with the Chengdu Gateway Logistics Office to improve the security, customs efficiency and freight capacity of the city's logistics infrastructure. DHL will also provide services to exporters in the city's High Tech Zone and Tianfu New Area and plans to launch a Chengdu – Turkey rail freight service in the next few months, CEO of DHL Global Forwarding ChinaSteve Huang said on May 26.
Ukrainian Railways, Black Sea shipping company Ukrferry and Translogist have joined the co-ordinating committee of the Trans-Caspian International Transport Route, which aims to improve links between China, Kazakhstan, Azerbaijan, Georgia, Turkey and Europe.