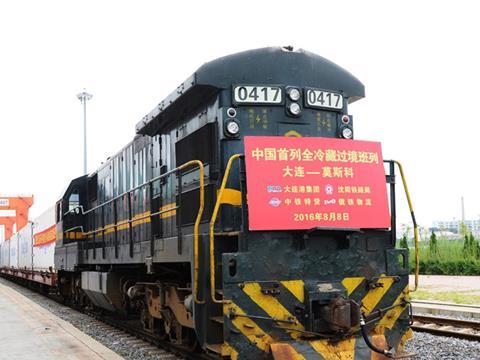 ASIA: Russian Railways' subsidiary RZD Logistics has launched a trial service moving perishable goods from China to Russia. A refrigerated container train carrying fruit and vegetables was dispatched from Dalian on August 8 en route to Orekhovo-Zuevo near Moscow, with an anticipated journey time of 18 to 20 days.
The pilot shipment uses six 40 ft containers organised in co-operation with TransContainer. These are connected to a diesel-generator wagon which powers the refrigeration system and maintains the internal temperature at the appropriate level to ensure the produce arrives in good condition.
According to RZD Logistics Deputy Sales Director Alexander Baskakov, there is considerable demand for 'a stable supply' of Chinese produce in the Russian market, with the potential for three or four trains per week, each conveying up to eight 40 ft containers. However, there has been little rail movement of refrigerated containers in China in the past, because of a shortage of suitable rolling stock.
RZD Logistics anticipates that a regular service could offer an 'optimised' transit time of around 12 days, which is three days quicker than sending goods by sea. It also believes the rail service would be competitive with road on price. The company envisages providing a door-to-door service including collection and delivery, noting that the use of containers avoids the need for reloading.
As well as fresh produce, the refrigerated service would be suitable for frozen and chilled products, pharmaceutical goods and electronics.