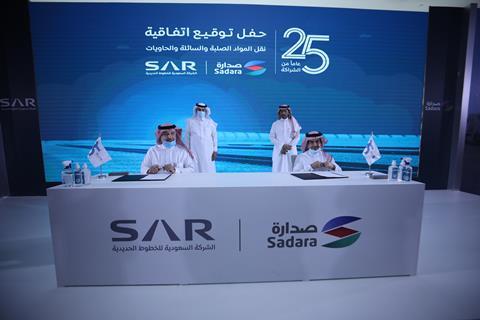 SAUDI ARABIA: Sadara Chemical Co has signed a 25-year contract to use Saudi Railway Co as its primary means of transporting solid and liquid products as well as containers.
The agreement covers the operation of two trains a day from the Sadara Chemical Campus to King Fahd Industrial Port, and three trips to Jubail Commercial Port. These services would replace 200 000 lorries/year to the ports, reducing emissions by 73%. About 125 000 containers/year are expected to be carried.
Construction of rail facilities at Jubail Industrial City is underway, and the transport of Sadara products is expected to start in the second half of 2021.
The agreement signed on July 1 builds on a memorandum signed at the launch of the National Industrial Development & Logistics Programme last year, and supports an initiative to increase freight traffic on the North-South Railway.
SAR Chief Executive Dr Bashar bin Khalid Al-Malik said the contract highlighted the railway's ability to provide efficient, reliable, fast, safe and environmentally-friendly transport services for the country's industrial sector, in line with the national 2030 vision.
Sadara CEO Dr Faisal Al-Faqeer said the contract was 'a unique agreement, the first of its kind in the region involving rail transportation of liquid chemicals and similar products'. This 'signifies a new milestone for Sadara and highlights our commitment to embracing new and more efficient ways of doing business.'
He said rail transport would be 'more efficient, cheaper and safer than transporting our products by trucks', and 'an added benefit is the reduction of carbon emissions'.