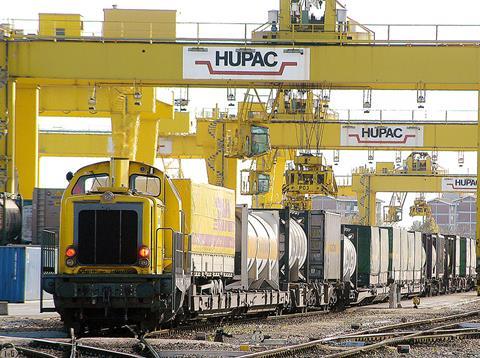 EUROPE: Intermodal freight transport company Hupac has reported a 12·3% increase in traffic in the first half of 2016. Its trans-Alpine traffic via Switzerland was up 20·2% compared to the same period last year, but freight via Austria was down 10·4% and via France down 14·1%. Non-trans-Alpine traffic was up 4·0%.
Hupac launched new Shuttle Net services on the Venlo – Busto Arsizio, Zeebrugge – Novara and Rotterdam – Brescia routes in the first half of the year, and increased frequencies on the Köln – Novara and Duisburg – Busto Arsizio routes. Its network in Poland was restructured, and the Austria – Hungary – Romania – Balkans route strengthened.
Hupac is focusing on the Mega Trailer market on trans-Alpine routes, with 70 departures/week for 4 m high trailers between Italy and Rotterdam, Zeebrugge, Antwerpen, Köln, Ludwigshafen, Lübeck and Taulov. A further 10 departures on the Lötschberg corridor are planned for later in 2016.
Hupac said investment in more resources and 'active management' of 'continuing quality defects' had played a role in the increase in traffic. But Managing Director Bernhard Kunz said structural changes were also necessary to make rail freight fit for the future. 'We welcome the principle of performance-based charging regulations according to EU Directive 2012/34', he said. 'The concept of this is to motivate infrastructure operators and railway companies with incentives to minimise breakdowns and increase the performance of the railway system. We expect the EU member states to quickly apply this principle. It is in the interest of all of us to significantly and permanently enhance the quality of rail freight transport services.'