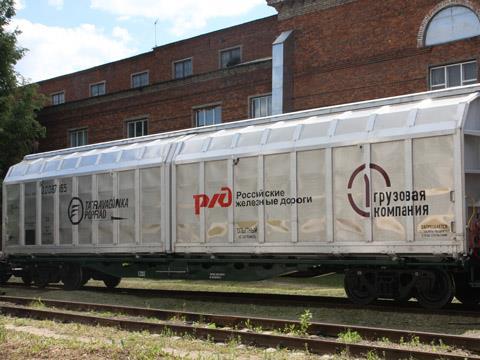 RUSSIA: The first of a planned fleet of wagons combining modern European design with Russian technical specifications is undergoing trials at the VNIKTI rolling stock research and development institute in Kolomna.
The Type 11-9861 sliding-wall wagon has been built by Tatravagonka in Slovakia under an agreement signed with Russian Railways subsidiary Freight One in September 2008. It is derived from the Habii(ll)nss design, and according to Freight One is 'fundamentally different' to the previous generation of Russian vehicles.
The sliding walls allow cranes to be used and give a loading length of 10 m, compared with 3 m on existing wagons. The capacity of 162 m3 or 72 tonnes is up to 20% higher than existing Russian designs, and Freight One hopes this will reduce operating costs by 12%.
In April 2010 Tatravagonka and Freight One signed a technical co-operation agreement for the production of covered and articulated flat wagons in Russia, with Freight One holding a one-third share in the intellectual property rights. This was followed in September 2010 by an agreement for manufacturing at TMH's Engels works, using components from the Bezhitsk Steel Plant.
Freight One plans to order 1 000 of the sliding-wall wagons once Russian certification is obtained.