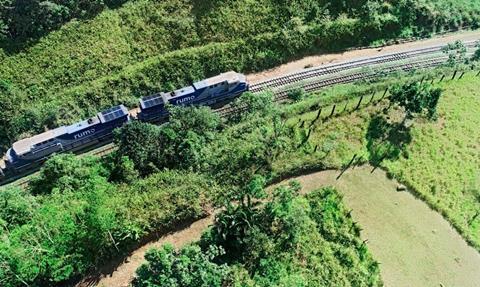 BRAZIL: Wood pulp and cellulose production company Bracell has qualified for an incentive scheme offering tax benefits towards the acquisition of rolling stock needed to move pulp between Pederneiras and the port of Santos in São Paulo state on the Atlantic coast, a distance of around 400 km. The trains would run over 1 600 mm gauge tracks forming part of Rumo's Paulista concession and would be operated by MRS Logística under a special contract.
Plans call for Bracell to purchase 21 main line diesel locomotives plus a fleet of 463 specialist wagons for hauling the pulp for export. The estimated cost is R$573m and the tax incentives are understood to be worth R$53m.
The tax incentive scheme, known as the Regime Especial de Incentivos para o Desenvolvimento da Infraestrutura, (Special Incentives Regime for Infrastructure Development) is one of several measures in Brazil's growth acceleration programme. It provides for a five-year suspension of tax contributions towards the country's social integration programme and social security measures.
Bracell's qualification for the scheme was agreed by the Secretariat for Promotion & Partnerships of the Ministry of Infrastructure on October 1.
Bracell is part of the Singapore-based Royal Eagle Group. It uses sustainably-produced eucalyptus to make soluble cellulose rayon grade and speciality grades of wood pulp which is used in the manufacture of a wide range of industrial products.