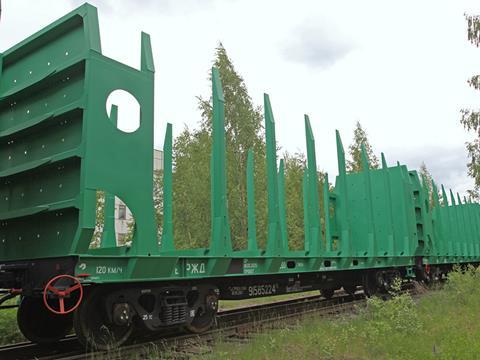 RUSSIA: United Wagon Co subsidiary TikhvinSpetsMash is supplying forest products company Vologodskie Lesopromyshlenniki with a batch of Type 13-6852-02 high-capacity timber wagons.
The design was developed by the All-Union Research & Development Centre for Transportation Technology. The wagons have a 25 tonne axleload, which along with making the maximum use of the loading gauge provides a capacity of 122 m3 with a payload 15% greater than older designs.
The wagons are designed for scheduled maintenance intervals of 800 000 km or eight years and a service life of 40 years, reducing both operating costs and the number of vehicles required compared to legacy designs.
'Vologodskie Lesopromyshlenniki supplies a wide variety of timber products by rail to both domestic and foreign customers, using different types of rolling stock', said the timber company's CEO Aleksey Alekseev on October 9. 'The timber platforms manufactured by TikhvinSpetsMash boast competitive advantages, such as higher payload capacity, loading volume and longer times between repairs. By using these advantages effectively, we hope to optimise logistics costs for timber deliveries in the home market.'