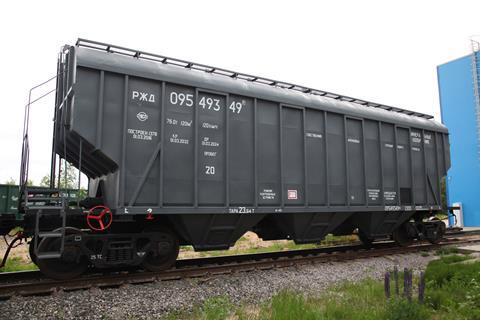 RUSSIA: Chemical producer Togliattiazot has ordered 200 mineral fertiliser hopper wagons from United Wagon Co, with deliveries from the Tikhvin plant anticipated by the end of May.
UWC said this was the customer's first order for wagons built to the latest generation of designs. The Type 19-9549-03 wagon is fitted with Type 18-9855 bogies giving a 25 tonne axleload, offering a capacity of 120 m3 or 76 tonnes. This is 6 tonnes more than the most common alternative designs, facilitating more efficient transport of loads with various densities, including those with a low bulk density such as urea.
The hopper body has a dual-component coating to provide reliable protection from the corrosive effects of the load, while the hatches are mounted on adapters to facilitate easy replacement when necessary.
The wagons have been designed to operate for eight years or up to 1 million km between maintenance interventions.
'TOAZ has always placed a great degree of importance on the uninterrupted and timely delivery of products to our clients', said the company's CEO Dmitry Mezheedov on March 19. 'Well-developed infrastructure and a highly efficient fleet for freight transport are therefore just as important for us as cutting-edge production capacities. We are confident that the purchase of cars with improved operational performance from UWC will enhance our logistical capabilities'.