SOUTH AFRICA: Rolling stock leasing and engineering company Traxtion Group has announced plans to invest in additional locomotives and wagons to support open access operations as the 22 500 km Transnet network is opened up to new entrants.
On October 15 South Africa's President Cyril Ramaphosa announced that private operators would be allowed to access state-owned rail infrastructure as part of the country's Economic Reconstruction & Recovery Plan, running their own trains to complement rather than compete with Transnet Freight Rail.
Responding to the proposals on October 26, Traxtion Group CEO James Holley said the 'exciting policy change' would have a positive impact on the country's broader economy, bringing greater confidence in the rail mode. 'This includes the development of new businesses, mines and farms and the expansion of existing businesses that will have access to rail services', he explained.
Subject to the negotiation of equitable access rights, Traxtion intends to invest an initial R1·5bn in locomotives and wagons, he said. This would augment its existing fleet of 50 locomotives and 200 wagons which are leased to operators in various countries under the Sheltam brand. Between R14bn and R17bn could be invested over the next five years, if the project takes off, he suggested.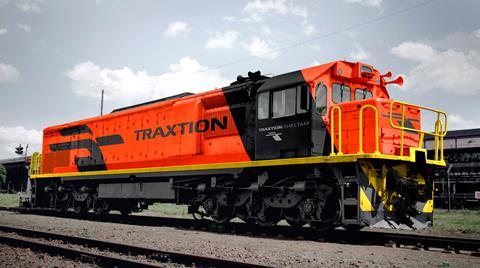 Although Traxtion Sheltam has its own engineering facilities at its Rosslyn Rail Hub in Gauteng, which can refurbish up to 30 diesel and electric locomotives a year, Holley said the group would partner with a 'blue-chip OEM' on a multi-year procurement programme for new locomotives to be assembled in South Africa. Wagons would be procured from domestic manufacturers. According to local media, this could include TMH International, which acquired the former DCD Rolling Stock plant at Boksburg in 2018 through the TMH Africa joint venture with Mjisa Investments.
Rather than bulk operations for the mining sector, Traxtion intends to target the general freight market, in a bid to stimulate modal shift from road to rail. This would see the company teaming up with established freight logistics businesses to run the trains, providing rolling stock and developing the staff through its Rosslyn training centre. However, Holley insisted that the group would not be looking to invest in its own warehousing facilities or freight consolidation hubs.