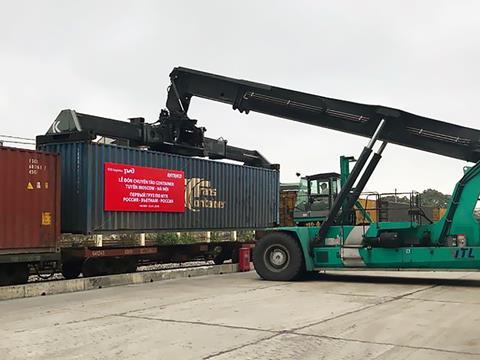 INTERNATIONAL: Russian Railways' RZD Logistics and Ratraco have completed a trial delivery of a container by rail from the Vorsino terminal south of Moscow to Hanoi.
Delivery of the container carrying cosmetic products for Russian company Red Line took 20 days, around half the time required by sea.
TransContainer provided the container, RZD Logistics was responsible for overall organisation and the Russian leg of the journey, and Far East Land Bridge supervised transport across China from the Zabaikalsk border crossing. Vietnamese logistics company Ratraco which is 35% owned by Vietnam's national railway managed the final stage of the journey, which was completed on January 23.
The project was developed from the idea to implementation in a short time 'thanks to the efforts of our specialists, who invested lots of their time and effort', said RZD Logistics CEO Viacheslav Valentik. 'We are happy to make our contribution to the development of trade relations between Russia and Vietnam, especially in such an important sphere as the export of Russian goods with a high added value.'