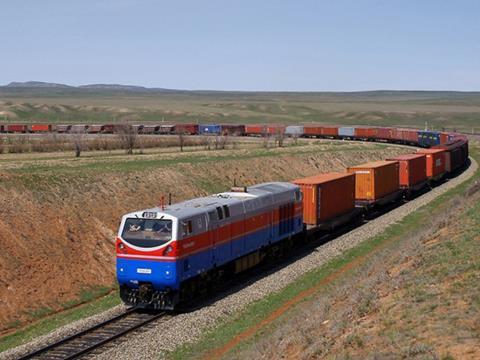 INTERNATIONAL: Kazakhstan's national railway KTZ is implementing a capacity optimisation plan which will see the containers from three 1 435 mm gauge intermodal trains arriving at the Dostyk border crossing from China being loaded on two trains for the 1 520 mm gauge leg to the Polish border near Brest in Belarus.
The Chinese standard gauge trains carry 41 containers, but the ex-Soviet broad gauge network can handle longer trains of 62 containers. Reducing the number of trains required is expected to 'increase the efficiency of the organisation of transit cargo', according to Sesebek Alishev, head of KTZ Freight's Almaty branch.
The pilot scheme intially covers services between Chengdu, Dostyk, Iletsk and Małaszewicze near Brest, where the first batch of containers arrived on August 25.