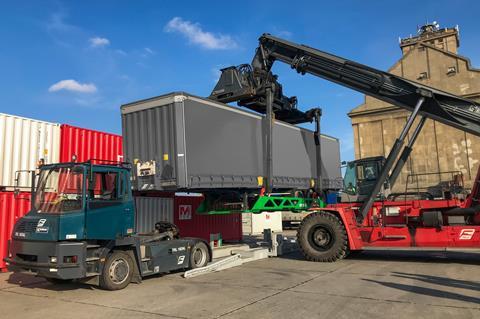 HUNGARY: TX Logistik has begun using its NiKRASA system to load semi-trailers which are unsuitable for lifting by crane onto wagons at the Mahart Container Centre in Budapest.
Its first shipment for a Hungarian customer was for International-Alexander and ran from Herne in Germany.
NiKRASA was developed in co-operation with Bayernhafen Gruppe and LKZ Prien. The semi-trailer is parked on the NiKRASA device, which can then be lifted onto a pocket wagon by a gantry crane or reachstacker. The lifting device travels with the semi-trailer, which can be directly unloaded at the destination.
NiKRASA is now available on 10 routes, with more planned.
'There has always been a high volume of traffic between Hungary and Germany. However, only a very small number of craneable semi-trailers have been available for rail transport in Hungary', said Bernd Weisweiler, Director of Business Development, Innovation & Funding at TX Logistik. 'Our NiKRASA system, with which we can get almost any semi-trailer onto the rails quickly and easily, is therefore attracting a great deal of interest among Hungarian forwarders.'