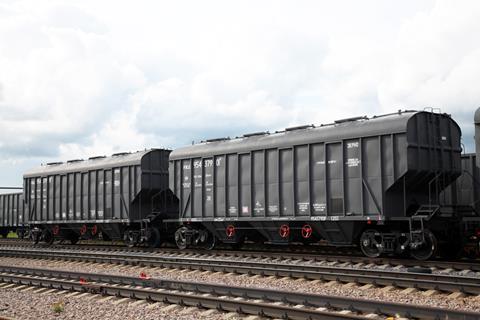 RUSSIA: This month Eskom-Agro will take delivery of a batch of United Wagon Co Type 19-9549 hopper wagons which are being financed by RSHB Leasing.
Designed to transport a wide range of grain and grain mill products, the wagons have 25 tonne axleload bogies and a capacity of 120 m3 or 76 tonnes, up to 6 tonnes more than older designs. The hoppers are compatible with all types of loading and unloading terminals, and the loading hatches provide for even distribution of the load.
'One of our company's main objectives is reducing expenditure, including on logistics', said Andrey Sokolov, Director of Eskom-Agro. 'The new generation cars are now established as the most efficient rolling stock on the market.'
RSHB Leasing CEO Alexander Kozhevnikov said leasing was 'one of the most convenient and accessible long-term investment tools' and the Russian Agricultural Bank subsidiary is planning to increase its rail portfolio.