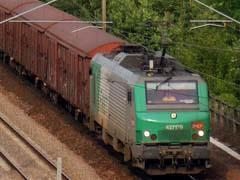 FRANCE: Fret SNCF has been conducting trials of operating trains up to 1 000 m in length, running between the marshalling yard at Somain south of Lille to Woippy outside Metz. Comprising two coupled formations each with their own locomotive and driver, 12 test trains were due to be operated between October and December.
The trials are intended to determine the technical feasibility of introducing regular operation of 1 000 m trains in 2018-19, and further extending maximum freight train length to 1 500 m in the longer term. With train weights ranging from 2 500 to 5 600 tonnes, the test runs conducted with revenue consignments have focused on coupling and uncoupling, dynamic behaviour and the ability to keep to current timings.
Fret SNCF Deputy Managing Director Jean-Marc Longequeue said that longer formations offered the potential to carry more traffic without the need for additional train paths. By doubling train weight but requiring only 20% more network capacity, combining two formations was a real means of increasing rail freight productivity, he added.