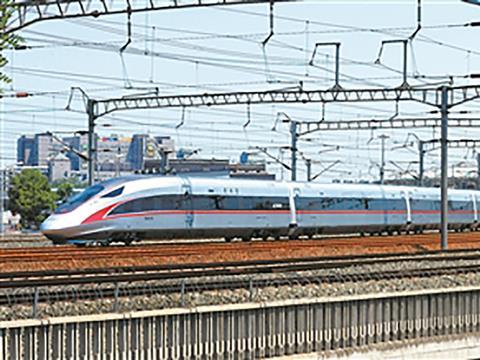 CHINA: Two designs of China Standard Electric Multiple-Unit officially entered service on the Beijing – Shanghai high speed line on June 26, following an extensive programme of test running. Services were launched when a CRRC Sifang CR400AF Blue Dolphin trainset departed from Beijing South station at 11.05 while a CRRC Changchun Railway Vehicles CR400BF Golden Phoenix simultaneously left Shanghai Hongqiao.
The gradually replacement of current high speed train fleets with a standardised design would 'greatly reduce our production, operational and maintenance costs, and will help us export our railway equipment, trains and technologies' He Huawu, Chief Engineer of China Railways Corp, told local media.
A ceremony in Beijing the previous day had officially branded the trainsets 'Fuxing', meaning 'rejuvenation'. President of China Railway Corp Lu Dongfu said this referred to the government's goal of national rejuvenation. Previous high speed trainsets had been branded 'Harmony', another government slogan.
The Fuxing trainsets have been developed by around 30 organisations including the China Academy of Railway Sciences and CRRC subsidiaries under a programme launched by the government in 2012. They are designed to be suitable for operation at speeds up to 400 km/h, but will run at a maximum of 350 km/h in service.
In contrast to previous designs of high speed train in China which drew on international technology, the Fuxing family uses purely domestic technology with all intellectual property rights being held domestically. It is hoped that this will allow trainsets to be exported.
The Fuxing trainsets have a design life of 30 years and incorporate standardised components including traction equipment and bogies, which is expected to reduce maintenance costs compared to the current variety of high speed train designs in use in China.
A third design of trainset has been developed by CRRC Tangshan.