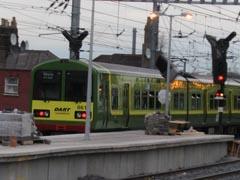 IRELAND: With responses to the prequalification tender for the public-private partnership to build Dublin's cross-city rail link due by July 20, Iarnród Éireann announced on June 22 that a new business assessment had confirmed a 'strong' economic case for the Interconnector project, now officially known as DART Underground.
The 7·6 km tunnel will link IÉ's Northern line to the Cork main line through the capital's business district, the development zones around Docklands and Heuston serving five underground stations in the city centre and a new surface station at Inchicore. IÉ says it will connect Dublin's electrified and non-electrified suburban routes to create an 'integrated and seamless' network. A formal submission for a Railway Order giving planning permission and powers to build the line is due to be lodged at the end of June.
The line is to be designed, financed, built and maintained by a PPP company as set out in an official Information Notice issued in February. The formal procurement process began on May 12 with the publication of the Contract Notice seeking pre-qualification applications. IE hopes to award the PPP contract by mid-2012, with construction to be completed in time for passenger services to begin running through the tunnel by end of 2018.
Despite Ireland's current economic problems, the DART Underground project still has the strong support of the Irish government, as a central part of its Transport 21 investment plan. Minister Noel Dempsey told the Dail that 'the two priority public transport projects are the DART Underground interconnector and Metro North'.
A review of the project by international consultancy Colin Buchanan & Partners Ltd concluded that the economic case for the scheme is strong, and completion is crucial to the future economic development of Dublin. It would deliver significant economic benefits over a wide area, with a Benefit Cost Ratio of 2·4:1, increasing Ireland's annual GDP by €450m in 2020. In terms of modal shift, it is expected to remove 25 million car-km a year from Irish roads by 2030.