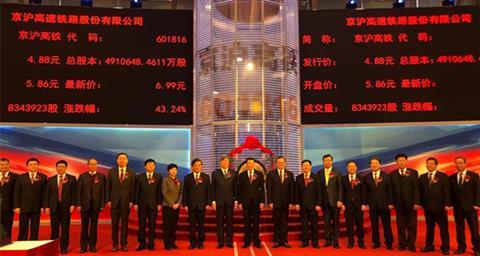 CHINA: Beijing-Shanghai High Speed Railway Co Ltd made its debut on the Shanghai Stock Exchange on January 16, following one of the biggest mainland Chinese IPOs of the past decade. The sale of 6·29 billion shares, about 12·8% of the total, at 4·88 yuan per share, raised 30·7bn yuan.
The company had submitted its prospectus on October 22 and received IPO approval from the China Securities Regulatory Commission 23 days later, reported to be a record for the shortest period for regulatory approval.
There were about 12·2 million applications for online issuance, and 2·34 million winning numbers were released through a lottery. After the start of trading the price jumped to 6·99 yuan, hitting the 44% ceiling allowed under the exchange's rules, before closing up 39% at 6·77 yuan.
Established in 2007, BSHSR operates the 1 318 km high speed line which has carried 1·1 billion passengers since the start of operations in June 2011. The company has made a profit since 2014, reporting a profit of 9·52bn on revenue of 25bn yuan in the nine months to September 30.
The operator plans to use part of the IPO proceeds to buy a majority stake in Beijing Fuzhou Railway Passenger-Dedicated Line Anhui Co.
China State Railway Group said listing would help to deepen the reform of state-owned enterprises, accelerate decision-making and optimise capital structures.