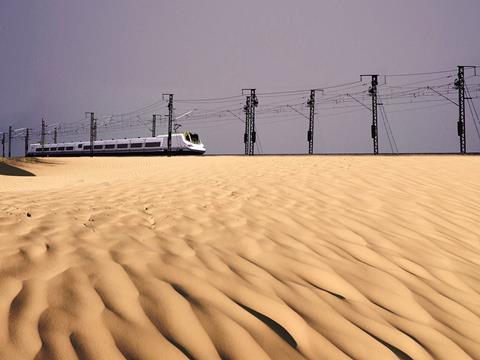 SAUDI ARABIA: An agreement to end the dispute over delays and cost over-runs affecting the Haramain High Speed Rail Line could be reached in the next few weeks, following a visit by Saudi Railways Organization President Dr Rumaih Mohammed Al-Rumaih to Madrid on October 25-26.
During his visit to discuss progress with the 450 km railway being built between Makkah, Jeddah and Madinah, Dr Al-Rumaih met Spain's Acting Development Minister Rafael Catalá, who succeeded Ana Pastor in July.
In May Pastor had announced that completion of the project had been put back by 14 months from January 2017 to the first quarter of 2018. This appeared to satisfy neither SRO nor the AlShoula Consortium of 12 Spanish and two Saudi contractors responsible for the €6·7bn railway systems contract, and in September both parties agreed to the appointment of an independent arbitrator to try and resolve ongoing disagreements. The job was given to Paul Taggart, an expert in construction contract management.
After the meeting with Dr Al-Rumaih, Spain's Development Ministry said both parties had acknowledged that 'good overall progress' had been made with the project and that much of the civil engineering work had been finished. Four sections of the line are substantially complete and work is proceeding on two other sections.
The objective now is to reach an agreement between SRO and the AlShoula Consortium on costs and the completion timescale, with SRO possibly granting another three months to the contractors. The consortium had sought to push the completion date back to early 2019.
Rolling stock builder Patentes Talgo said in September that it had delivered eight trains to Saudi Arabia, with 10 more finished and awaiting shipment. The company is supplying 35 Talgo 350 trainsets plus a luxury version for use by the royal family.
The Haramain scheme has faced a number of difficulties since the railway systems contract was signed. These include allegations of delays to the civil works which were let under separate contracts, windblown sand in the inhospitable climate and disputes within the AlShoula Consortium.