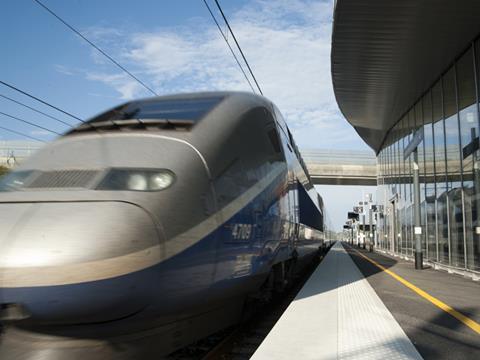 FRANCE: A daily service of more than 33 trains in each direction will connect Paris with Bordeaux following the opening of LGV Sud Europe Atlantique on July 2 2017, SNCF confirmed on April 11.
Completion of the Tours – Poitiers – Bordeaux high speed line now being built by the Lisea consortium under a PPP concession will see the fastest journey times between Paris and Bordeaux reduced from 3 h 14 min to 2 h 4 min, while Paris – Toulouse will be cut from 5 h 25 min to 4 h 9 min.
SNCF has been involved in intensive negotiations with the concessionaires, who have been looking to maximise the number of trains using the new line, and with the local authorities that contributed to the funding and wish to ensure better connectivity for towns and cities across the Aquitaine Limousin Poitou-Charentes region. According to the operator, the new service pattern and around 2 500 related timetable changes follow more than 200 consultation meetings led by former minister Jean Auroux, who was appointed as a 'mediator' in June 2015.
SNCF has committed to operate an average of 18·5 non-stop trains each way per day between Paris and Bordeaux, offering a basic hourly connection and half-hourly in the peak direction at selected times. Another 15 trains each way per day will make one or two intermediate stops at Saint-Pierre-des-Corps (for Tours), Poitiers, Angoulême or Libourne. There will also be earlier arrivals in the capital and later departures than at present.
Anticipating an additional 2·3 million passengers per year from 2019, SNCF is to replace its existing fleet of 105 single-deck TGV Atlantique trainsets by a new fleet of double-deck sets, at a cost of around €1bn. The 40 TGV 2N2 Euroduplex Atlantique sets ordered from Alstom in March 2012 under an option dating from 2007 are due for delivery in 2016-19. Numbered 851 to 890, these dual-voltage sets will be equipped for 25 kV 50 Hz and 1·5 kV DC, restricting them to domestic operation. They will be the first TGVs equipped with seats that rotate to face the direction of travel. Each unit will have a bar car, plus seats for 556 passengers in five second-class and two first class vehicles, as opposed to four and three in the existing Duplex sets.
A further 24 of SNCF's older TGV Duplex sets will be refurbished for use on Atlantique services. All of the trains will have a new interior configuration and 'high quality' design, with ergonomic seats in both first and second class, as well as onboard wi-fi.