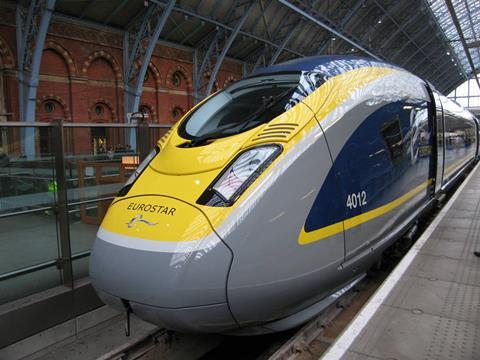 EUROPE: The first of Eurostar's 17 Siemens-built Velaro e320 trainsets began operating in limited commercial service on November 20, having been authorised for passenger operation through the Channel Tunnel the previous day.
According to Eurostar, 'we received the final piece of safety authorisation earlier than expected', allowing the company to put the first train into traffic on the 10.24 departure from London to Paris. The unit will operate 'a small number of services' on this route over the next few weeks in order to 'fine-tune the onboard service' ahead of a formal launch in mid-December. The trains are expected to enter regular service before the end of this year, with all 10 of the first build ordered in 2009 due to be available by May 2016.
On test for more than a year, the 320 km/h trainsets were formally authorised to operate in France by French safety authority EPSF on October 16. The final approval for use in the Channel Tunnel was issued by the Intergovernmental Commission on November 19.
As well as operating on existing routes, the e320s are also equipped to run into the Netherlands. However, Eurostar has delayed the launch of its planned service to Amsterdam from December 2016 until early 2017.
Styled by Pininfarina, the 16-car e320 with distributed traction equipment has three cars with premier seating at each end, flanking 10 standard class cars and two buffet-bar areas at the centre of the formation. Each trainset can carry up to 902 passengers.