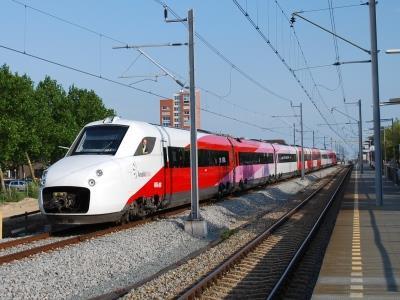 NETHERLANDS: National passenger operator NS has reached agreement with AnsaldoBreda and its parent company Finmeccanica to settle the ongoing dispute over the V250 trainsets supplied for the aborted Fyra high speed services linking Amsterdam with Brussels and Breda.
Under an agreement announced on March 17, AnsaldoBreda will take back all 16 V250s ordered by NS and return €125m to the operator, which says its loss on the debacle is now capped at €88m. Having taken legal advice, both parties agreed that a compromise would be more beneficial than continuing the protracted legal action, and allow them to 'fully concentrate' on their normal business. AnsaldoBreda is currently building 50 V300 high speed trains for Trenitalia in partnership with Bombardier.
Ordered as long ago as 2004, the V250s were withdrawn in January 2013 after little more than a month of international service, following a series of technical failures. Belgian operator SNCB subsequently cancelled its contract for three trains which had not been delivered, and NS decided in June 2013 to abandon the Fyra project despite having already accepted several trains and put them into operation.
Both parties accept that the trains could have been repaired and returned to commercial service. According to a joint statement, 'the disagreement between the parties concerned a different assessment of the conditions under which this recovery would be possible. Basically it was not about the robustness of the design, but about acceptable deadlines for repair and employability that failed to meet the needs of NS, and about the financial consequences.'
AnsaldoBreda will take responsibility for recovering the V250s that have been stored near Amsterdam. The supplier will then be free to refurbish or modify the trainsets to meet the needs of another operator. In the event of a successful sale, the agreement provides for additional payments to NS up to a maximum of €21m.
Finmeccanica expressed its satisfaction with the agreement, which it said represented 'a significant step forward' in defining the level of risk at AnsaldoBreda. The effects of the deal have already been reflected in the company's 2013 results.