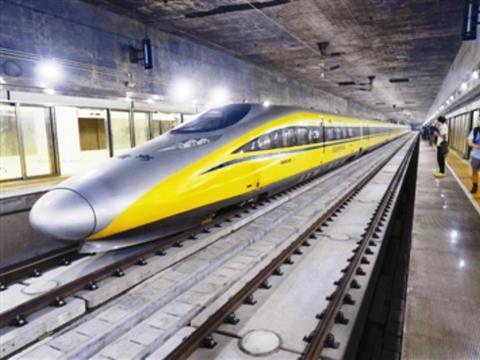 CHINA: A further 15 km section of the Guangzhou – Shenzhen – Hong Kong high speed line was opened for revenue service on December 29, when China Railway Corp extended its high speed services from Shenzhen North to Futian, close to Shenzhen's central business district and the border with the Hong Kong special administrative region.
Described as 'the largest underground station in Asia', occupying an area of around 1 000 by 80 m, Futian station has three sub-surface levels. The eight high speed platforms are located 32 m below ground. Of these, four are designated for use by domestic inter-city trains and four for cross-border services to-and from Hong Kong. The station is served by Shenzhen metro lines 1 and 2, and provision has been included for the future airport rail link, designated as Line 11.
CRC is initially operating 11 trains each way per day to and from Guangzhou Nan. These offer a journey time of around 50 min including intermediate stops at Shenzhen Bei and Humen.
Following, the completion of the HK$20bn Express Rail Link within Hong Kong, which is now expected to open in 2018, the journey time from Futian to the West Kowloon terminus is expected to be around 15 min. The fastest services are expected to connecting Hong Kong and Guangzhou Nan in just 48 min, compared with 100 min using the existing line via Lo Wu.
On December 28 CRC began operations on the 158* km Tianjin – Baoding Intercity Railway. This 250 km/h line connects the Beijing – Shanghai Passenger-Dedicated Line at Tianjin Xi with the Beijing – Guangzhou PDL at Baoding, serving five intermediate stations at Shengfang, Bazhou Xi, Baigou, Baiyangdian and Xushui. Promoted jointly by the former Ministry of Railways and the provincial governments of Tianjin and Hebei, the 24bn yuan line serves the southern part of the greater Beijing-Tianjin-Hebei conurbation. Construction began in March 2010, and the line was originally expected to open in 2013.