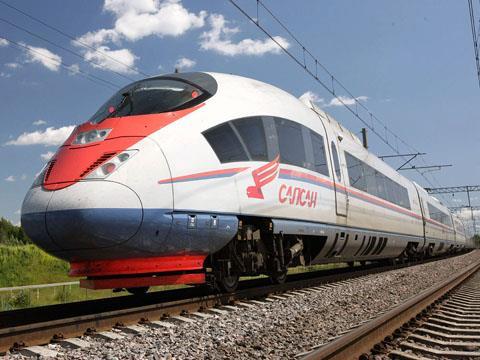 RUSSIA: The government has allocated 6bn roubles in the federal budget for 2015 to finance further development of the proposed Moscow – Nizhny Novgorod – Kazan high speed line, Prime Minister Dmitry Medvedev announced on December 23.
Noting that 'foreign investors have shown great interest in the project, including our Chinese partners', Medvedev said 'the task is to quickly conduct engineering surveys and develop project documentation to decide on the financial model'.
Russian Railways has already completed an initial programme of preparatory studies agreed in September 2013, including a review of potential investment sources, an independent audit of the proposed technology and costs by international experts and the preparation of tender documents for the design phase.
The railway says the 'immediate task' in 2015 is to hold a bidding contest to select a contractor for the detailed design and survey work. This would pave the way for the setting up of a public-private partnership to finance, build and operate the line.
Passing through seven regions, the 770 km Moscow – Kazan high speed line is expected to have 15 stations, serving a population of about 25 million people. As well as Moscow, Nizhny Novgorod and Kazan, it would serve the cities of Vladimir and Cheboksary, cutting some journey times by as much as 75% compared with current timings.
According to Medvedev, the project would have 'an obvious multiplier effect', leading to the creation of new jobs and economic development as well as improving rail links from Moscow to Astana and Beijing. The line is expected to trigger additional economic activity of around 11·7tr roubles in the first 12 years of operation, and RZD points out that the predicted tax revenue of 3·8tr roubles in this period would 'exceed the cost of the project many times'.