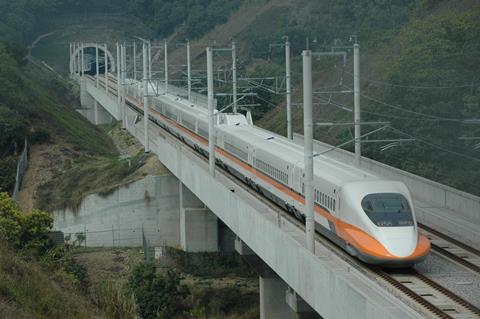 TAIWAN: The government has backed proposals to extend THSRC's 1 435 mm gauge high speed railway to Yilan County, Minister of Transport & Communications Lin Chia-lung confirmed on October 24.
Speaking to local media ahead of a Legislative Yuan Transport Committee meeting to review the Taiwan Railway Administration and Railway Bureau budgets, Lin said a preliminary evaluation had 'showed that the project is feasible', although further work would be needed to consider construction methods, funding sources and potential economic benefits.
He felt that a new line would help to balance economic development in different regions, relieving congestion on the busy Chiang Wei-Shui highway.
Running southeast from Nankang to Yilan, the extension would offer a much more direct route than TRA's existing 1 067 mm gauge line, which follows a sinuous route along the east coast. However, industry insiders warned that tunnelling through the mountainous region could be geologically challenging, noting that construction of the Hsuehshan motorway tunnel had been delayed significantly by the complex nature of the fractured rock and trapped water.
The Railway Bureau is currently looking at a conventional 'express railway' which would shorten the distance between the two cities from 87·5 km to 50·9&nsp;km. Priced at NT$66·8bn, this would cut the Taipei – Yilan journey time from 58 to 27 min and provide capacity for up to 7 200 passengers/h. Extension of the high speed line at an estimated cost of NT$100bn would offer a capacity of 18 000 passengers/h with a journey time of just 13 min. Bureau director Allen Hu pointed out that either project would have to be approved by the National Development Council and undergo an environmental impact assessment before any work could start.