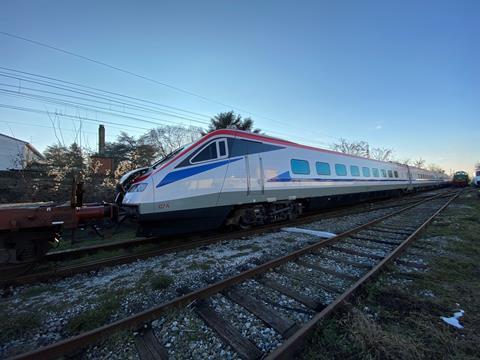 GREECE: The first of five ETR470 Pendolino trainsets being refurbished for use on Trainose's flagship Athens – Thessaloniki route has been delivered to Thessaloniki and is expected to enter service in March.
The nine-car tilting trains were built in 1993-97 to operate trans-Alpine routes from Milano to Zürich and Genève, and passed to Trenitalia on the break-up of the Cisalpino joint venture with SBB. The decision to deploy them in Greece was announced in March 2019, following the acquisition of Trainose by Italy's FS Group and trials with a similar ETR485 trainset.
The 200 km/h trains are being fully refurbished at Alstom's Savigliano plant in Italy, with the former dual-system traction package modified for 25 kV 50 Hz operation and ETCS onboard equipment installed, as the route is fitted with Level 1 to provide automatic train protection. Internal improvements include the provision of new passenger information systems and onboard wi-fi.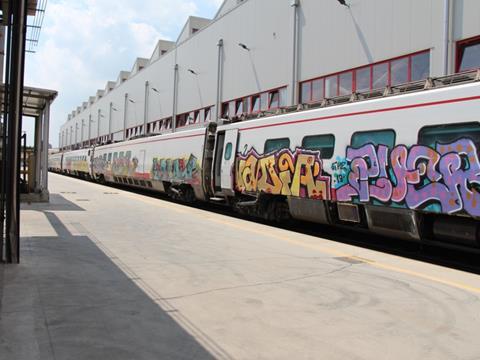 The remaining four units are expected to be delivered by autumn 2021. Following the completion of a long-running infrastructure upgrading project on the recently-electrified main line, the introduction of high speed tilting trains is expected to reduce the journey times on the 502 km Athens - Thessaloniki route from the current 4 h to 3 h 20 min.
The trains are to be maintained in Thessaloniki by Alstom under a contract awarded in June 2020. Together with a March 2020 contract for a 'significant' modernisation of the depot facilities, the package is valued by the manufacturer at around €40m.
'Starting high-speed service in Greece with these upgraded trains is part of our strategy to offer an improved passenger experience, better quality services and reduced travel time on a very popular route, explained Trainose CEO Prof Filippos Tsalidis when the delivery of the first train was announced on January 20. 'The upgrade of our Thessaloniki depot as part of this project will turn our depots into some of the most modern and high-tech depots in southeast Europe.'
Describing the introduction of high speed trains as 'a major achievement', Alstom's Managing Director for Greece Stavros Vlachos said the project would complement the company's long-standing presence in the country.