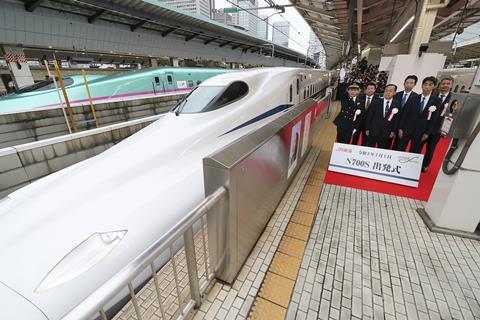 JAPAN: Central Japan Railway officially launched its first Series N700S high speed trains into revenue service on the Tokaido Shinkansen with a ceremony at Tokyo station on July 1.
'This is the best Shinkansen, which offers the finest-ever quality of seats and a comfortable space', announced JR Central President Shin Kaneko before the departure of Nozomi 1 to Shin-Osaka and Hakata at 06.00. The N700S is 'full of our technological achievements', he explained, adding that 'I'm sure passengers will feel comfortable to take a ride on the train'.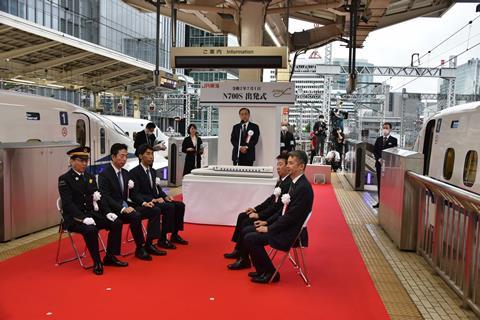 Designated N700S for Supreme, JR Central's first new high speed train design for 13 years has been developed as a successor to the Series N700 and N700A sets that currently operate on the Tokaido and Sanyo Shinkansen at up to 300 km/h. According to the railway, the N700S has been 'completely redesigned', while retaining elements from the earlier Series 700, N700 and N700A trains. A pre-production prototype has been undertaking trial runs since March 2018, and will be retained as a dedicated test unit 'to propel the development of new technologies'.
Introduction of the N700S follows on from a third build of N700A trainsets, which enabled the withdrawal of the last Series 700 units earlier this year. JR Central has an initial four production trainsets available for revenue operation, and expects to receive a further eight by the end of the current financial year in March 2021. The N700S fleet is expected to reach 40 trainsets by the end of end of fiscal 2022.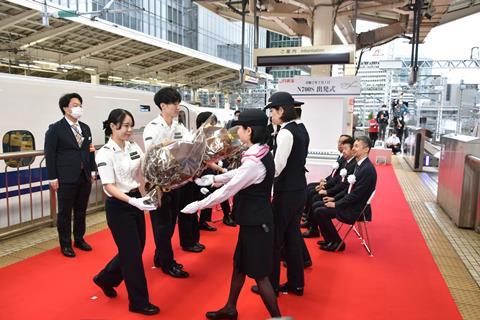 The N700S driving cars have a more aerodynamic profile that their predecessors, helping to reduce noise and vibration. Raised sections forming ridges on each side are intended to reduce the sonic boom effect in tunnels. All passenger seats are equipped with power sockets and an improved reclining mechanism, while indirect illumination is intended to provide a relaxing atmosphere.
The N700S sets are fitted with lithium-ion battery packs for catenary-free operation at low speeds, enabling them to move to a safe location in the event of any overhead line failure, whether caused by an earthquake or human error.
While the Tokaido Shinkansen sets are the same 16-car formation as their predecessors, Kaneko said the N700S has been designed to operate in eight or 12-car configurations for possible domestic or export applications, adding that 'we aim to be the global standard'.