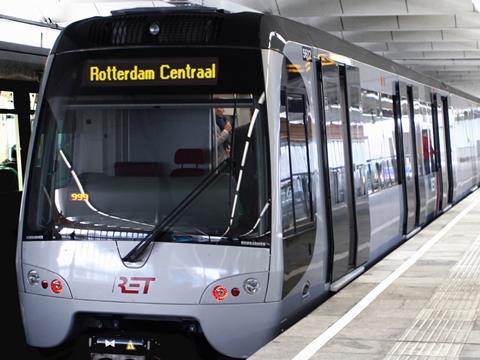 NETHERLANDS: Rotterdam transport authority RET has exercised a €66m option with Bombardier Transportation for a further 16 Flexity Swift light rail vehicles.
These are to be delivered in 2016 for use on the Schiedam Centrum - Hoek van Holland Strand route which is to be converted from heavy rail operation to enable through running from RandstadRail Line B.
The three-section LRVs will be 42 m long, with 104 seats and space for up to 166 standees. There will be two multi-purpose areas for wheelchairs and prams, and seven double doors per side. The LRVs will work in pairs on the Hoekse Lijn at peak times.
Announcing the contract on February 5, Bombardier said the vehicles would be supplied from its Bautzen site in Germany, with Mitrac electrical equipment from Mannheim and Flexx Urban bogies from Siegen.
'It goes without saying that a new high-quality transport connection needs high-quality vehicles', said RET Chief Executive Pedro Peters. 'Our long-term relationship with Bombardier, delivering many light rail vehicles to RET over the years, has always been highly satisfactory. Therefore we are very pleased to order 16 additional vehicles.'