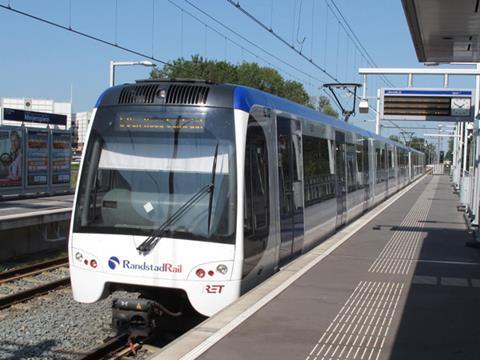 NETHERLANDS: VolkerRail and Mobilis have been awarded a €72m contract to convert the 24 km railway between Schiedam Centrum and Hoek van Holland to metro operation. The work is to be complete by February 2018 and will require a five-month blockade of passenger traffic.
The scope includes the modernisation of the six intermediate stations, including provision of lifts and step-free access between platforms and trains, as well as the construction of a station at Maaslsluis Steendijkpolder and the replacement of the current Hoek van Holland Strand station. A stabling area is to be built at Vulcaanhaven and the electrification changed from 1·5 kV DC to 750 V DC.
Proposals to convert the line were approved by Stadsregio Rotterdam and the municipalities of Maassluis, Vlaardingen, Schiedam and Rotterdam on December 17 2012. The line is to be operated as an extension of the existing RandstadRail Line B, which currently runs from Nesselande through central Rotterdam to Schiedam Centrum. Provision is being made for the continued operation of freight trains between Schiedam, Maassluis and Vlaardingen outside peak hours.
The budget for the whole project is €312m. This includes a fleet of 16 three-section light rail vehicles that Bombardier is supplying from its Bautzen site in Germany under an €80m contract awarded in 2014. Bombardier also has a €25m contract to supply signalling.