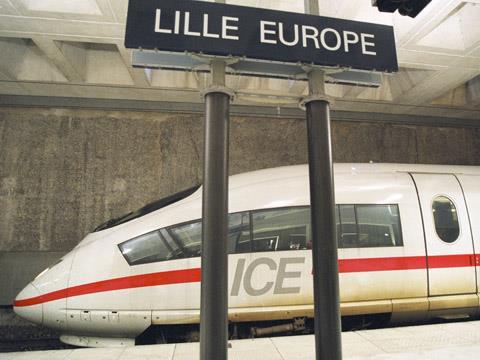 FRANCE: Business leaders in Nord-Pas de Calais have expressed frustration at the slow rate of progress in expanding the European high speed rail network.
Speaking to Railway Gazette International on May 3, Thierry Mabille de Poncheville, Managing Director of the Lille business promotion agency APIM, said that he was 'very excited' about Deutsche Bahn's plans to launch open access high speed services between Amsterdam, Frankfurt and London from 2013.
'But it is crazy that from Lille we can get to London in 80 min but to Amsterdam or Köln it still takes twice as long, with a need to change in Brussels', he said. 'We have shown that we can attract companies to our city from Paris or London, but the Netherlands and Germany are important for our future growth as a business hub. We are not very happy about the quality of connections today.'
The opening of LGV Nord in 1993 has led to the creation of 50 000 jobs in the Lille metropolitan area and a two-thirds increase in leisure visits, Mabille reported. According to Mabille, this has vindicated the lobbying efforts in the 1980s led by the then Mayor and former French Prime Minister Pierre Mauroy to route the line through the city rather than using a more direct alignment to the Channel Tunnel through Amiens.
Mabille warmly welcomed the European Commission's efforts to liberalise the market for international passenger services, suggesting that 'as a border city' Lille was especially well-positioned to benefit. He cited the possible launch of services from as far afield as Torino as an extension of the cross-border services to Lyon proposed by the Trenitalia/Veolia joint venture.
He also explained that Lille has become an increasingly popular destination for visitors seeking evidence of the economic benefits of high speed rail. 'We have had visitors from the USA, the UK and Brazil — you name it.'
'The question we always ask is what would we have done without high speed rail?' he added. 'It does not bring development on its own, but our 20-year programme to shift our local economy from heavy industry towards services would have been impossible otherwise.'
An extended version of this interview will appear in the September 2011 issue of Railway Gazette International.