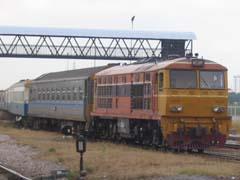 THAILAND: Government officials in Bangkok are expected to recommend that the Chinese-backed programme to build a network of standard gauge main lines across the country be initially restricted to two routes.
The two lines promoted by the Working Committee preparing the Memorandum of Understanding would link the capital with Nong Khai on the border with Laos, and Padang Besar on the southern frontier with Malaysia. The Nong Khai line would connect with the standard gauge line from Kunming through Laos, where construction work is expected to start next month.
A third proposed route running east to the Cambodian border has not been approved by the Thai government under an initial framework agreement with China, according to Chula Sukmanop, chairman of the MoU Committee.
The Thai government currently envisages holding a 51% share in the management companies overseeing the projects, although another committee on Sino-Thai investment policy chaired by Deputy Prime Minister Suthep Thaugsuban has instructed the transport ministry to increase this stake to 60%.

Some details of the MoU are already agreed, according to Sukmanop. Two joint-venture companies would be created, one to supervise construction, fit-out and infrastructure management of the lines. It would then award a 30-year operating concession to the second joint venture.