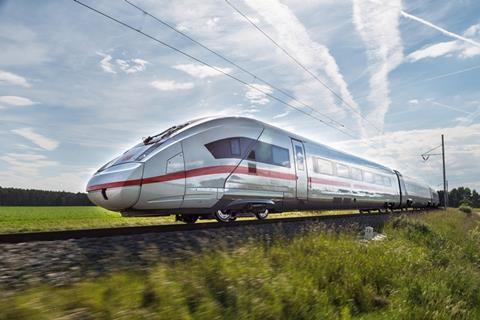 GERMANY: Siemens announced on September 16 that the 12-car ICE4 high speed trainset that it is supplying to Deutsche Bahn had been approved for operation by federal railway authority EBA. With immediate effect, 'the train's 14-month introductory phase can now begin', said Siemens.
Following two months of 'internal test operations', two ICE4 trainsets are to be 'rigorously tested under real-life conditions' on the München — Hamburg route. Entry into passenger service is scheduled for the December 2017 timetable change.
'With today's approval of operations and series homologation, we have met our timetable for the ICE4 exactly to the day', said Siemens Mobility CEO Jochen Eickholt. 'That is a fantastic feat in view of the project's scope.'
Siemens points out that the ICE4 has been approved under a new homologation process, with documentation and test certificates issued by recognised testing bodies. With the exception of two specialised areas, EBA only checks the completeness of these documents.
'Thanks to this new procedure, the large number of required documents and certificates for the ICE4 project could be distributed among various testing bodies at an early stage', said Siemens, ensuring that the planned timetable for approval could be met.