Contrasts abound in the complex UK railway business, with high costs militating against network enhancements despite the urgent need to raise capacity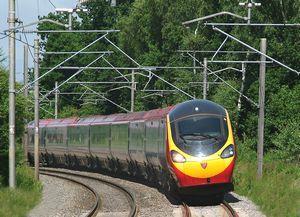 A HOT SUMMER is in prospect. That's not a weather forecast, but a comment about the UK's railway policy. There should be plenty of action, including the announcement of five new franchise winners.
Even more significant will be the publication by the Department for Transport of three critical documents that will determine the future shape and nature of the national railway. Assuming the current timetable does not slip, these will appear in July.
One will be a White Paper setting out the long-term needs of the railway business. The other two are closely related and require more explanation. The High Level Output Specification and the Statement of Funds Available are part of the process specified in the Railways Act 2005 which requires the government to spell out what it wants the railway to deliver during the next regulatory Control Period, known as CP4. We are currently in CP3, which began in April 2004 and ends in March 2009.
CP4 starts in April 2009 and runs to March 2014, and at the moment work is being carried out to determine the level of income that Network Rail will receive during CP4 from track access charges paid by the Train Operating Companies. This procedure (Table I) is in the hands of the Office of Rail Regulation, which assesses NR's costs and needs in what is known as the Periodic Review.
The Department for Transport will submit HLOS and SoFA to ORR, which will compare the two to determine if they are compatible. Should there be a mismatch, ORR will report back to the Secretary of State who will then have to revise the government's expectations or the level of funding. In either case, the government's considerations will be heavily influenced by its Comprehensive Spending Review, which sets the overall public expenditure position and must be taken into account in SoFA.
A hot summer in 2007
Railway policy and projects will be key topics for debate in the coming summer:
HLOS and SoFA to be published
White Paper on long-term railway policy
Comprehensive Spending Review
Procurement to start for Inter-city Express Project
Funding to be considered for Thameslink modernisation
Possible Royal Assent for Crossrail bill
Winners announced for New CrossCountry, East Midlands and West Midlands franchises
Inter-City East Coast franchise re-let
London Rail concession awarded
Many railway policy decisions hinge on the outcome of this convoluted ritual, but it is already clear that there are several forces pulling in different directions. A major issue influencing policy is the massive cost of the railway to the taxpayer, which has now risen to the staggering figure of nearly £5bn a year (Table II). The reasons for this can be traced to past policy failures that have been well rehearsed in these pages, and in the last three years the government has consistently exerted pressure on the industry to drive down costs.
NR has a regulatory objective of reducing costs by 31% during CP3, and it is making tangible progress. On December 20 NR announced another move to take costs out of the industry when it revealed that the number of track renewals contractors will be cut from six to four, yielding estimated savings of £150m over three years.
While the government is understandably reluctant to pour yet more taxpayers' funds into the railway pot, it has a serious dilemma because of the urgent need to raise capacity in the face of rapidly-growing traffic. The Department for Transport acknowledges that the capacity issue must be addressed, but it would prefer to tackle this without spending more money. So squeezing additional capacity for passengers and freight out of the existing network is another key factor driving the inputs to HLOS and SoFA.
Soaring traffic
Official statistics reveal just how busy the rail network has become. For three years in succession to 2005 the number of passenger trips exceeded 1 billion (Fig 1), with the 2005 total of 1 082 million likely to be beaten again when the figures for 2006 become available. Passenger-km too have risen to record levels, and there is little sign of the trend changing - in the year to September 30 2006 passenger-km rose by 4·2% with long-distance operators recording an 8% rise. Whether this will continue as hefty increases on unregulated fares are pushed through remains to be seen - there are signs that pricing is being used to dampen demand on some routes.
With green issues attracting attention in the political arena, this policy is seen as contradictory to the government's professed wish to see rail absorb more of the transport burden. Nonetheless, NR is forecasting steady growth in years to come. Last July it published its Initial Strategic Business Plan, in which it calculated that passenger traffic would rise by 30% in the next 10 years.
Freight traffic too is on a rising curve (Figs 2 and 3), and NR expects the 105·7 million tonnes carried in 2004-05 to swell to 135 million tonnes by 2014-15. In the year to September 30 2006 tonne-km were 4·5% up on the previous 12 months, while government statistics reveal that rail freight increased its market share from 6% to 9% between 1995 and 2005. Admittedly, higher coal tonnages are the main reason for this, but it is still a welcome achievement.
In its business plan, NR put forward two options. One, the Baseline, was a steady-state proposal that would keep the network unchanged. The other, known as the Base Case, envisaged capacity enhancements to accommodate 'reasonable' projections for growth. The package of enhancements came with a price tag of around £8bn spread between 2009 and 2014.
NR Chief Executive John Armitt argued that his company's progress in cutting costs meant that 'we are going to be able to run today's railway for almost £1bn less each year' during CP4, and the tacit suggestion was that this money should be used to help finance the package of capacity enhancements.
These include the Thameslink upgrade scheme, previously known as Thameslink 2000 (p82), reconstruction of Waterloo once Eurostar vacates the international terminal for its new home at St Pancras, rail links for airports in Glasgow and Edinburgh, upgrading of the Felixstowe - Nuneaton route to handle taller containers on standard wagons and a similar project between Southampton and the West Coast Main Line, as well as a host of smaller plans. Just which, if any, of these schemes will come to fruition depends largely on the outcome of the HLOS-SoFA process.
Major projects off the agenda
For 10 years now the UK government has successfully avoided a commitment to move ahead with any major new line construction projects other than the Channel Tunnel Rail Link, the second stage of which opens in November. There are strong indications that new lines will remain off the agenda for the foreseeable future, leaving the industry in a position where it must carry yet more traffic on the existing network. The Crossrail project in London may prove an exception, but in reality it remains no more than a paper plan as funding has still to be agreed.
Squeezing more capacity out of the rest of the network will challenge the industry for years to come. Policy is likely to be shaped by Sir Rod Eddington's report on links between transport and economic growth (RG 1.07 p4), which was commissioned by the Treasury and the Department for Transport.
Eddington suggests that infrastructure capacity improvements should be considered only after other measures such as train lengthening and resignalling for shorter headways have been implemented, but agreeing and funding even relatively small schemes is not simple while the industry remains fragmented with no obvious leadership in place to develop and oversee an investment strategy.
What leadership there is rests with the Department for Transport's Rail Group. Its ability to manage rail investment projects is open to question, one example being the project to develop a replacement train for the 30-year old IC125 fleet of diesel-powered HSTs and the electric IC225 sets. Known as the Inter-city Express Project, this is being led by DfT. Confusion over the specification has put back the procurement timescale to the point where tendering will not start until the coming summer, which, incredibly, means that new trains will not be available much before 2020.
IEP also highlights another contrast. The UK's railways are nominally in the private sector, but the detailed design of its future trains, to say nothing of what the operators may or may not do in their franchises, is rigidly controlled by the state.
Rail Business Intelligence, published every two weeks by Railway Gazette International, offers unrivalled detailed coverage of business, commercial and political developments affecting the UK rail industry.
Table I. How Network Rail's access charges in 2009-14 are set
2005
August
ORR starts consultations on CP4
December
ORR publishes initial assessment of NR's CP4 revenue needs
2006
February
ORR issues guidance to NR on its Initial Strategic Business Plan
June
ORR consults on structure of charges
July
NR publishes Initial Strategic Business Plan
July
ORR consults on incentive framework and 'emerging views' on financial framework
September
ORR assesses NR's Initial Strategic Business Plan
December
ORR consults on freight access charges
2007
February
ORR publishes 'Advice to Ministers and Framework for Setting Access Charges', including statement on requirements for HLOS and SoFA
March
NR publishes 2007 Business Plan
July
DfT1 publishes High Level Output Specification
July
DfT1 publishes Statement of Funds Available
July
DfT1 publishes White Paper on long-term needs of railway business
August-September
ORR states implications of HLOS and SoFA
October
NR submits Strategic Business Plan
October
ORR reviews NR's Strategic Business Plan
2008
February
ORR publishes assessment of NR's Strategic Business Plan
March
NR publishes 2008 Business Plan
April
NR revises Strategic Business Plan as required
April
ORR issues statement on NR's funding in 2009-10
June
ORR issues draft determinations on Periodic Review
October
ORR publishes final determinations on Periodic Review
December
Final levels of access charges agreed
2009
March
NR publishes Business Plan for CP4
April
CP4 starts
1. DfT and Scottish ministers
Fig 1 Passenger traffic in the UK has risen steadily since the mid-1990s to reach record levels
Fig 2. Freight tonne-km has risen by 50% since privatisation, but remains well below historic levels
Fig 3. Coal continues to account for around half of all freight moved, with longer import flows helping to drive up tonne-km. Network Rail expects annual freight traffic to reach 135 million tonnes by 2014-15
CAPTION: First Great Western is refurbishing and re-engineering its 30-year old fleet of IC125 sets. Some sets will be shortened by removal of the buffet car and fitted with high density seating to accommodate more passengers
Photo: Brian Morrison
CAPTION: The freight market has benefited from the entry of a number of smaller operators that have increased competition. FirstGroup subsidiary GB Railfreight received a further batch of EMD Class 66s last month, and is expected to exercise an option for five more later this year
CAPTION: Passengers crowd onto a South West Trains suburban service at Clapham Junction. SWT is removing some seats to create extra standing areas as part of the refurbishment of its Class 455 inner suburban EMUs
La manque de capacité s'approche tandis que l'échec de la politique se fait ressentir
Avec des prévisions de hausse de 30% des trafics voyageurs et marchandises au cours de la prochaine décennie, la surcharge de parties du réseau britannique va s'aggraver à moins que des mesures ne soient prises pour augmenter la capacité des lignes et des trains. Le plan d'entreprise stratégique de Network Rail demande un investissement de 8 milliards de livres pour la période 2009-14, mais les futurs niveaux de dépenses s'articuleront sur la High Level Output Specification du gouvernement et le Statement of Funds Available qui lui est associé. La publication de ceux-ci est attendue pour juillet, avec un livre blanc dont on s'attend qu'il donne l'allure de la stratégie ferroviaire à long terme. La remise en jeu de la franchise d'InterCity East Coast à la suite de l'échec de GNER qui n'a pas atteint ses objectifs financiers par trop ambitieux, laisse à penser que la politique de franchisation menée par le Département des Transports à échoué
Kapazitätskrise droht, und Fehler in der Politik schlagen zu
Mit prognostizierten Verkehrszunahmen bei Personen und Gütern von mehr als 30% über das nächste Jahrzehnt wird die Verstopfung des britischen Netzes viel schlimmer, ausser es werden Massnahmen zur Steigerung der Strecken- und Zugskapazität ergriffen. Der strategische Businessplan von Network Rail sieht Investitionen von 8 Milliarden Pfund für die Periode von 2009 bis 2014 vor, aber zukünftige Ausgaben hängen von den langfristigen Finanzplänen der Regierung ab. Diese Pläne werden auf Juli erwartet, zusammen mit einem Weissbuch, welches die langfristigen Strategien für die Bahnen umfasst. Die Neuvergabe der InterCity East Coast-Franchise nach dem Misserfolg von GNER beim Erreichen von über-ambitiösen Finanzzielen zeigt, dass die Franchising-Politik des Verkehrsministerium zurückgeschlagen hat
La saturación se acerca al ritmo de los fracasos en política
Se prevé que tanto el tráfico de pasajeros como el de mercancías crezca por un 30% en la próxima década, lo que implicaría que la congestión parcial de la red británica empeorará si no se presentan medidas para aumentar la capacidad de las líneas y de los trenes. El plan de negocios estratégico de Network Rail necesita una inversión de £8 000 millones entre 2009 y 2014, pero los futuros niveles de costes dependerán de la High Level Output Specification por parte del gobierno y de la Statement of Funds Available correspondiente. Éstas se deberán publicar en julio junto con el libro blanco que determinará la estrategia del ferrocarril a largo plazo. La licitación de la franquicia InterCity East Coast tras no alcanzar GNER sus objetivos financieros demasiado ambiciosos indica que la política de franquicias del departamento de transporte ha fracasado