Rolling stock engineers gathered in Paris on April 2 to mark the conclusion of a European Commission-backed project to cut life-cycle costs through the industry-led standardisation of subsystem interfaces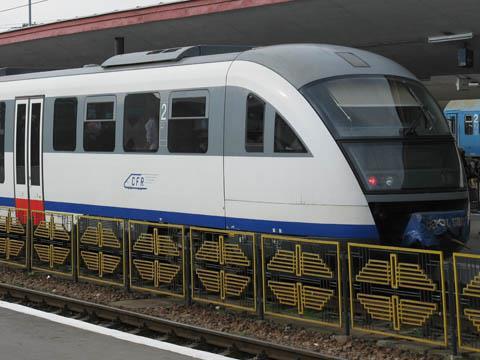 'Modtrain is a not an organisation, it is a project', stressed Eric Fontanel, Modtrain chairman and General Manager of supply industry association Unife. He was speaking at the conference marking the conclusion of the four-year programme supported by the European Commission's DG Research, which had set out to develop voluntary specifications detailing the interfaces between rolling stock subsystems with the aim of lowering life-cycle costs for both train operators and systems integrators.
Modtrain was created in 2004 in response to a fundamental shift in the way rolling stock is procured, and the resultant realignment of the roles of train builder and operator. Whereas rolling stock design was formerly under the direct supervision of the engineering departments of the national railways, new generations of trains are now developed entirely by the manufacturers. Operating internationally, these systems integrators prefer to produce modular and highly standardised rolling stock platforms, which can then be customised for a particular client.
This offers cost savings through economies of scale, as well as increasing reliability and expediting the approval of new vehicles through the use of a high percentage of service-proven components.
Industry participation
Bringing design in-house has led to increased standardisation of subsystems, but it has also increased the specificity of the requirements put to sub-suppliers. Modtrain aimed to define and standardise functional, electrical and mechanical interfaces between subsystems, through a family of subprojects looking at areas such as bogies, control systems and human interfaces (box).
The task was to assist the development of interchangeable modules and components, which can form the basis for the next generation of inter-city trains and interoperable locomotives. The aim of Modtrain was explicitly not to develop a standard locomotive, or even standard components, but instead to define common interfaces for subsystems at a lower level than the large-scale interoperability provided for in the mandatory Technical Specifications for Interoperability.
The hope is that train builders will be able to buy interchangeable parts from a wider range of sub-suppliers, allowing particular component to be selected on the grounds of cost, performance or reliability rather than simply compatibility. The European railway supply market would be more open to the deployment of standardised equipment, while fully preserving the ability to innovate.
An example of such standardisation is an agreement that air-conditioning units could make available a specified range of temperature and voltage data in a format which any other onboard system could read and use.
Fontanel told the conference that operators and suppliers have complementary objectives, both wanting to reach a minimum level of standardisation at the subsystem level and thus open up the market further down the supply chain. 'Being purely voluntary, this new standardisation process would maintain fully open the possibility of technical innovation, in domains that are not critical for interoperability and for which, therefore, a mandatory ?approach could not be justified.'
Light touch management
Unlike the top-down system used for developing TSIs, Modtrain was designed with a light management structure to ensure the full participation of the manufacturing industry. The big players were represented directly rather than through intermediate national organisations, ensuring that the project would identify what can reasonably be standardised, without creating a belief that standard trains could be built from standard components.
Dr Martin Schober, Subproject Leader Modlink and a specialist in Aerodynamics & Thermodynamics at Bombardier, highlighted the 'consensus approach' of Modtrain, which was intentionally 'not going for voting down' different ideas.
Experience from other sectors was highlighted. Schober showed photos of aircraft flight decks, illustrating the massive technological changes between a 1930s Ju52 and a modern A380, but also the convergence between the configurations of the modern products of Airbus and Boeing, two highly competitive companies which have nevertheless adopted some common layouts.
Modtrain's industry-led approach is 'probably the only efficient way to make progress' towards the goal of lower life-cycle costs, said Fontanel. The four participating systems integrators - Bombardier, Siemens, Alstom and AnsaldoBreda, had not worked in such a collaborative way before, but they showed they were able to co-operate without forgetting that 'they are very harsh competitors'.
Research data has been exchanged with smaller manufacturers, and representatives of the major players suggested that where the big systems integrators go, other companies will follow.
A variable frequency power supply for a HVAC unit is to be tested on a Z-TER multiple-unit in France this month, fitted with monitoring equipment and put into commercial service for a year to assess energy savings and passenger comfort. The results will be made available to all interested parties.
Breaking from national standards
Fontanel said the most significant achievement of the operators involved in Modtrain was their ability to agree on common specifications that were not simply a description of past domestic practice.
Detailed research has been undertaken to produce a standard functional breakdown structure listing the technical requirements for subsystems. Within the Modbrake subproject, partners DB, Trenitalia and SNCF identified around 400 specific requirements for bogies, which were whittled down to 350 harmonised requirements.
A computerised requirement management tool will enable train operators to issue their specifications in a standardised way when calling tenders, simplifying bidding and enabling easier comparison of proposals.
The EC's Deputy Head of Surface Transport Research Frédéric Sgarbi emphasised the importance of a modular approach to define common interfaces for technical systems and components. The need is for 'modularity of system design, interchangability of key modules and components'.
The next steps
The Modtrain project has now come to a close. European Commission policy is now to focus on smaller-scale individual projects, but development will continue through the independent projects which Modtrain kick-started.
The results of technical research will be used in the development of new standards. Unife and UIC are now investigating the possibility of continuing their work to develop more 'voluntary interoperability constituents', which would then be published as common Unife/UIC Technical Recommendations, for free experimental use prior to their eventual transfer to the European standardisation bodies.
However, a note of caution for the future was sounded by an engineer from one of the system integrators. If the project does indeed lead to the development of interchangeable subsystems, and so longer production runs of fewer designs, there will be a strong downward pressure on costs as highly customised products made in small batches become cheaper, mass produced modules. As well as benefiting operators, 'this will be good news for Chinese manufacturers,' he told Railway Gazette International, 'but perhaps less good for European suppliers.'
The Modtrain subprojects
Modbogie Running gear
Modcontrol Train control and monitoring system
Modpower On-board power system
Modlink Man-machine and train-to-train interfaces
Moduser Interfaces between subprojects, and with rail industry organisations which were not directly participating in Modtrain.
Total cost €30·4m. Funding of €16·9m came from the European Commission's 6th Framework Programme for Research & Technological Development, the remainder from the 36 industry partners and Unife.
Wheel revolution
Deutsche Bahn has achieved significant cost savings through the standardisation of wheelsets, Director of Rolling Stock & Procurement Joachim Mayer told the Modtrain conference.
DB once had around 30 different kinds of wheel, which were available from two sub-suppliers at an average price of €2 346 per wheel. With an annual requirement of 4 800 per year, DB was spending €11·3m a year.
Standardisation on one design opened the market to all sub-suppliers worldwide. The unit cost fell to €1 900, cutting the annual bill by 20% to €9·1m.
What do users really need?
Moduser was the subproject looking at the driver's cab and passenger entrances. Operators' requirements were standardised and itemised, a mock-up built for experimental validation, and the results then consolidated with a view to influencing future TSIs and ENs.
The mock-up train was tested by a range of potential passengers. When testing for accessibility it is important to not optimise only on wheelchair users, points out Thomas Meißner, Managing Director of Berlin-based research organisation FAV.
A cab simulator was tested in four configurations by drivers from 11 countries. No desk was perfect. One experiment included giving the drivers separate blocks containing each sets of controls and asking them to position things where they found them most convenient.
The results have been used by Bombardier in the design of recent multiple-units, but a truly standard cab is still seen as a long way off owing to fundamental differences in national standards. Modlink subproject leader Martin Schober from Bombardier stressed that total standardisation is not realistic or desirable - as an extreme example, only a limited number of operators will ever need to specify the provision of space in the cab to store a rifle for shooting injured elk.
CAPTION: Different cab configurations were tested by drivers from 11 countries under the Modlink subproject.
CAPTION: Accessibility testing should not fall into the trap of considering only wheelchair users.
CAPTION: Modtrain aimed to define common interfaces for subsystems at a lower level than the large-scale interoperability requirements provided for in Technical Specifications for Interoperability.