An essential first step will be to overcome the perception that public transport is dangerous, and emphasise that the risks can be managed. As well as putting the appropriate processes in place, it is vital to get the messaging right, and that needs to start now.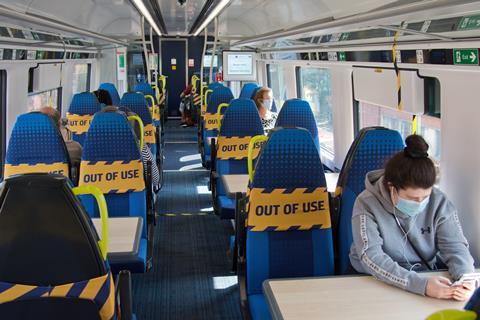 'An unprecedented situation deserves an unprecedented response,' said Franck Lacroix, Managing Director of TER services at SNCF Voyageurs on June 12, launching a massive campaign to encourage passengers back to his trains as France starts to open up after the coronavirus pandemic.
SNCF has teamed up with Régions de France to 'restore the momentum of growth seen on TER trains since 2017' through a blitz of marketing and ticket promotions, inviting French citizens unable to holiday abroad to discover more of their own country. The railway had already begun to ramp up its long-distance services, while seeking to assure potential travellers of the extra cleaning and other precautions it was taking to ensure their safety.
While other countries are at different stages in dealing with the pandemic, more and more governments are urgently seeking to reboot their national economies after months of lockdown, getting people back to work and the shops open again, spending money and creating jobs. Key to this is getting control of the Covid-19 virus and minimising the risk of infection, through a mix of intensive testing and contact tracing. Governments and citizens rightly remain wary of the risk of a 'second wave' or a flare-up in the infection rate if the precautions are relaxed too quickly.
But where does that leave the transport sector? The International Association of Public Transport warned in May that 'the entire ecosystem of the sector will have to fight to survive this crisis, to rebuild trust in public transport, and ultimately to come out stronger'. While France has gone on the offensive, the messaging elsewhere has been mixed, to say the least.
Advice from the World Health Organization for people to keep 2 m apart to minimise the risk of transmission has decimated the capacity of mass transport, with trains typically limited to no more than 20% of their nominal capacity. So it is perhaps not surprising that operators have been seeking to manage demand by urging people not to travel and leave space for those who have no alternative. But the repeated warnings have helped to spread a perception that public transport is somehow 'unsafe'.
UK Transport Minister Grant Shapps even went as far as suggesting that London commuters should use cars instead, driving to the edge of the city and then walking or cycling. This is a recipe for increased air pollution and gridlocked roads, at the very time when the climate change mitigation imperatives are calling for reduced dependency on private vehicles.
Writing in The Atlantic on June 14, former New York City transport commissioner Janette Sadik-Khan pointed out that 'even during a pandemic, public transit systems show themselves to be indispensable to the functioning of big cities, transporting essential workers to jobs, while also acting as a major engine of economic stability and equity. Transit agencies' most pressing job, next to managing massive budget shortfalls, will be managing fear while they seek to reclaim the passengers they have lost'.
High-visibility cleaning regimes and strong health messaging campaigns will be essential to reassure a wary ridership.
While early reports suggested that public transport might have been a 'vector' in spreading the virus, particularly in New York, there is little evidence of this. Urban railways in France, Japan and South Korea, as well as busy metros as far apart as Hong Kong and Milano have reported few examples of transmission between passengers.
While the science remains uncertain, one factor seems to be the near-universal wearing of facemasks in Asian countries. Unlike the more common concerns over air pollution, mask wearing in the case of Covid-19 is not to protect the wearers, but to prevent others from being infected should the wearer perchance be an asymptomatic carrier of the virus.
Exposure time also seems to be a factor, and many metro journeys are less than 15 min, with plenty of fresh air being introduced to the vehicles every time the doors open at each station. With mask-wearing being made mandatory in more and more places, there seems to be a growing feeling that a combination of masks, good ventilation and regular cleaning could allow the social distancing guideline to be reduced to 1·5 m or 1 m, or even abolished. This would reinstate much needed capacity on urban rail services.
Long-distance trains are more of a challenge, given the longer exposure times, allied to a risk of the virus being circulated through the air-conditioning. However, train operators and manufacturers are urgently looking at ways to improve ventilation and filtration, including the installation of air cleaning systems, allied to a regular programme of disinfecting vehicles and stations.
Meanwhile, we must not forget that 'the rising danger' of climate change 'has not stopped during the crisis', as UIC, UITP and UNIFE pointed out in a joint letter to leading European politicians on June 3, arguing that the decision makers needed to look beyond the Covid-19 pandemic and its aftermath.
Getting passengers back on the trains will not be a quick process, and many operators accept that traffic is unlikely to return to pre-pandemic levels for two or three years. An essential first step will be to overcome the perception that public transport is dangerous, and emphasise that the risks can be managed. As well as putting the appropriate processes in place, it is vital to get the messaging right, and that needs to start now.