'There is no European Green Deal without rail'. That was the emphatic message from Siemens Mobility CEO and UNIFE Chair Sabrina Soussan, addressing a round-table discussion at the annual European Rail Award in Brussels on February 18, hosted jointly by CER and UNIFE.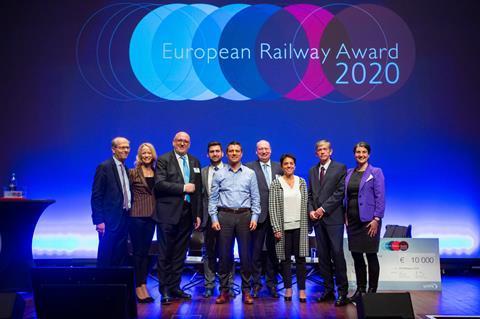 As the recently elected European Parliament gets down to business and the new Commission starts to bed in, the rail sector is keen to emphasise its green credentials as a key part of the fight against climate change. There were repeated calls that after decades of talking, the 2020s must be a time of action. While some were disappointed that new Transport Commissioner Adriana Vălean was unable to attend, DG Move Director General Henrik Hololei insisted that rail needs to move faster in delivering change.
Representing the Transport & Tourism Committee, Bulgarian MEP Andrey Novakov — who has taken over as Chair of Rail Forum Europe — made the case for significant investment in rail as part of the next EU budget, particularly if sufficient capacity is to be provided on key corridors to accommodate the hoped-for shift of traffic from more polluting modes. Hololei countered that rail had already benefited from 75% of all CEF funding as well as regional development aid. Calling for further technical harmonisation and a faster rollout of ERTMS to complete the Single European Railway Area, he suggested that a pan-European approach to capacity management was also needed.
What seems clear, however, is that a big focus in the 2020s will be the thorny question of freight. Whilst the Rail Freight Forward '30 by 2030' strategy launched by a group of operators in 2018 to achieve 30% market share within the next decade is reportedly starting to pay off, rail still has a lot to do if it is to attract significant volumes of traffic in the coming years. And many state-owned freight operators continue to struggle with productivity and profitability.
Appropriately, this year's award went to the dynamic Lineas CEO Geert Pauwels, who has transformed the former B-Logistics business from a near basket case into a forward looking and flexible company that is going out and winning traffic in a competitive market.
Pointing out that it had taken the very real prospect of bankruptcy to convince ultra-conservative railway staff of the need for action, Pauwels said that once they had got the message and felt empowered, his employees had 'not just gone the last mile, but the extra mile' to improve performance and quality of service.
Partial privatisation in 2015 had helped Lineas to evolve, and Pauwels paid tribute to his supportive shareholders who were looking to the longer term benefits rather than short-term profits. He suggested that other state-owned freight operators could also benefit from privatisation to become more flexible and competitive, at the same time helping to level the playing field for on-rail competition.
Lineas' success can be largely attributed to its Green Xpress network of fast international connections. Pauwels said refining the service offer had been key to the turnaround. 'Classic single wagonload could not offer good quality, intermodal does not make money, and block trains are no good for driving modal shift', he admitted. 'We needed to provide an efficient service at a low price which was easy to use. Combining conventional and container traffic in one network has allowed us to do that, and our customers adore it.'
Much of the talk at European level focuses on research and innovation to transform freight operations, including the oft-discussed autocoupler and digital brake monitoring to speed up the assembly and dispatch of trains, as well as automation to reduce the sector's dependence on a shrinking workforce where old skills are proving hard to replace. Freight is set to be a major pillar in the second Shift2Rail programme now taking shape.
Yet as the Lineas experience suggests, transforming rail freight is as much about mindset as technology. Small, flexible and dynamic operators as far apart as North America, the UK and Tasmania are making a success of rail freight over some very short distances, by driving productivity and focusing on operational efficiency. In some cases they are sweating their assets to get two round trips out of each trainset every day. Expensive locomotives and wagons should not be standing around in yards, or waiting in loops to be overtaken by passenger trains, but moving traffic and earning revenue. This is very much the philosophy behind the Precision Scheduled Railroading model being adopted in North America. In a mixed traffic environment, it means careful attention to timetable planning and train pathing to keep the freight moving.
Close co-operation between operators and infrastructure managers is essential, but this becomes much more challenging as soon as the trains start crossing borders. However, some European governments are starting to think about rail at an international scale, which would be a welcome step forward.
Rail freight operators large and small cannot afford to wait for the next 'silver bullet' technical innovation, or for politicians to put in place the mythical level playing field. They need to look closer to home, rethinking their business models, identifying opportunities to improve productivity and working with potential customers to develop new and competitive services. Over to you.