Andrew Grantham reports from Eurostar Engineering Centre Temple Mills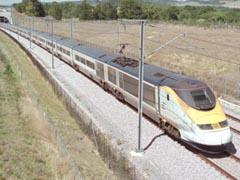 IN ADDITION to moving its London passenger terminus to St Pancras, Eurostar is transferring train maintenance from North Pole International depot in west London to a £400m state-of-the-art facility at Leyton in the east.
Located near the future Stratford International station, Eurostar Engineering Centre Temple Mills is 10 min from St Pancras, and was needed because accessing North Pole from High Speed 1 would be difficult.
Designed by architect Anthony Leslie, funded by the UK government and built by LCR, the 435 m long and 58 m wide main building has been designed with an emphasis on rapid turnround times.
The eight covered tracks allow work on complete Eurostar trainsets, eliminating the need for trains to be split into halves for maintenance. At the formal opening on October 2, Eurostar Chief Executive Richard Brown said this will save at least 2 h per train visit, and 'many, many hours' overall.
Rather than straight replacement, Brown says the new depot is a 'version two' designed from experience of 'what worked, and what did not' at North Pole. Speedier turnround times will enable Eurostar to 'release more trainsets to carry all the extra passengers we anticipate when High Speed 1 opens'.
In the light of experience, depot track spacings have been increased from 5·8 m to 6·5 m to provide more space for maintenance staff.
There is a bi-directional carriage washing plant, and toilet-emptying facilities for two trains. Automatic wheel condition monitoring assists maintenance scheduling, and the Mechan bogie drop is able to handle two trains simultaneously, helping to eliminate the need for bogies to be sent to France by road for repair.
Six of the covered tracks have retractable rigid catenary, which can be powered at 1·5 kV and 3 kV DC as well as the 25 kV 50 Hz of the high speed line. Power is controlled using smart cards and PINs, a faster system than the padlocks used at North Pole. The 750 V DC third rail equipment on the trains will be removed as soon as possible after High Speed 1 opens, eliminating a major maintenance headache. The depot is fully signalled, and six tracks are fitted with TVM signalling loops for testing.
There are nine overhead cranes on site, positioned to handle both the standard 18-car Eurostars and the shorter 14-car 'North of London' sets which are currently leased to SNCF. Possible future developments were considered in the design process, and the depot will be able to accommodate double-deck stock should the need arise.
A remote-controlled 28 tonne battery electric tractor from Sculfort is used to move trainsets around the depot.
The first of 350 Eurostar staff arrived at Temple Mills in June, and 90 people moved from west to east London on October 7 to begin the first heavy maintenance as part of the ramp-up of the site's capabilities. The main staff transfer from North Pole will take place on November 14, with all but essential maintenance undertaken at Eurostar's other depots for the 24 h change-over period. North Pole will close the same day.
CAPTION: The Temple Mills site in east London contains 16 km of track and is 10 min from St Pancras
CAPTION: Based on experience at North Pole, aluminium staging has been custom-designed to provide easier access to the train noses and bring significant time savings in maintenance and cleaning
CAPTION: The wheel lathe supplied by Sculfort has double the capacity of that at North Pole, enabling the London depot to undertake work which is currently carried out in Brussels.