RUSSIA: The country's second biggest freight operator has announced an IPO and listing on the London Stock Exchange. Globaltrans Chief Executive Sergey Maltsev told Andrew Grantham how he views the opportunities presented by market liberalisation.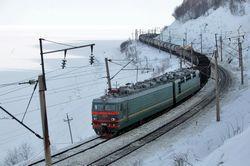 'Whoever gets there first and has access to fin­ancing will be in the best position to b­e­come the market leader', says Globaltrans Chief Executive Sergey Maltsev, explaining why Russia's second-largest rail freight operator is seeking international investment to fund growth. He aims to position Globaltrans as 'the leader of the currently fragmented Russian rail market'.
Operating through subsidiaries New Forwarding Co and Sevtechnotrans, Globaltrans is second only to the First Freight Co subsidiary of state-owned Russian Railways. It provides rail transport, logistics and ancillary services for around 250 blue chip customers, focusing on high-margin traffic including ferrous metals, scrap and oil products. Operating profit for the 2007 calendar year was US$127·6m, up from US$76·8m in 2006. Assets at December 31 2007 totalled US$778m.
Announced on April 4, the London initial public offering of 29% of the outstanding shares is due to take place by the end of June. Proceeds of US$390m to US$509m will be used to fund a capital investment programme which includes the acquisition of additional rolling stock, and up to US$50m will be used to repay debt and for corporate purposes. Deutsche Bank is global co-ordinator for the offering, and joint book-runner with Morgan Stanley.
Relations with RZD
Maltsev is very positive about his 'fruitful and constructive' relationship with the state railway, which is obliged to provide access to the network for all certified operators. 'I don't see anything negative in the attitudes at present', he said. 'RZD is interested in getting me on the track, because it generates money for them.' Around 35% of the current wagon fleet is privately owned, and about 2 000 private operators are firmly integrated into the structure of the Russian rail industry. 'If you stop 35% of the blood, what would happen to the person?'
Globaltrans owns 18 locos and leases a 19th. These are used to operate services over distances of 250 to 500 km which 'don't interfere with RZD', while trains over longer distances are hauled by RZD.
The locos are also being used to train Globaltrans' own crews, as the company plans to have staff already in place for rapid expansion when the traction market is liberalised in 2010. Further loco acquisitions are planned; 'the situation is ripe for modernisation, and naturally we will do our best to be involved', says Maltsev
The sheer scale of Russian operations poses a problem for would-be locomotive operators. Locos can end up huge distances from home, presenting problems for smaller players who lack depots in appropriate locations. Because of this, loco ownership requires 'stable routes and stable cargo flows', explains Head of Investor Relations Priit Pedaja.
The company is currently piloting the use of electronic documentation which will keep track of wagons, and help to minimise empty return workings. 'This was our idea initially', explains Maltsev. At first RZD was 'not very receptive', but when First Freight Co was established as a stand-alone business able to compete effectively with private operators, it realised it would need a large network of agents if it was to function in a traditional way. Rather than do this, FFC is working with Globaltrans on the development of the electronic system.
Globaltrans has also expressed interest in acquiring 21 wagon maintenance depots which are to be privatised, and it envisages long-term contracts with RZD for agreed volumes of work.
Expanding market
Globaltrans now has around 50% of the ferrous metals business in Russia, and is prioritising the sector as it currently generates the highest margins. This will change as demand alters, and the company's market share and main traffic will be a function of customer demand. When China changed from being an importer to an exporter of metals, Globaltrans was quick to reposition its services to suit the revised flows.
'In Russia we are living through a construction boom', says Chief Financial Officer Alexander Shenets, 'and we cannot miss that market.' The government has announced its intention to cease subsiding electricity production, a change which Maltsev expects to make the coal market more competitive and potentially lucrative as generators seek to control costs.
Maltsev is particularly keen to reduce empty working, and Globatrans is thinking about introducing intermodal services between the Far East and the Urals in an effort to avoid empty runs.
Globaltrans also operates in Ukraine, and carries 500 000 tonnes of iron ore a month in Kazakhstan. 'We will look anywhere with 1 520 mm gauge', says Maltsev, adding that 'Uzbekistan could be interesting.' However, it is important that appropriate bilateral agreements are in place when working in other countries, otherwise 'we cannot say whether our rolling stock will come back.'
Much of the rolling stock in Russia is nearing the end of its useful life, and replacement will require massive investment which the government hopes will come from private sources. 'The government is pushing private businesses to buy rolling stock', says Maltsev. 'I believe RZD should focus on infrastructure, which will need a lot of resources.' He cautions that the regulatory framework needs to be updated. 'There are still lots of issues around financing to be settled,' but he is confident this will be achieved by 2010.
Around 82% of Globaltrans' fleet of 21 000 wagons are owned or leased through finance leases, with the remainder under operating leases. Globaltrans will use the money to be raised in London to fund the acquisition of at least 5 000 more wagons, including dedicated container vehicles and flat wagons which are in great demand.
How far might the fleet grow? 'It depends on the shareholders and the macroeconomic situation,' says Maltev, 'but in my dreams at night I see 50 000 or 60 000 wagons!'
CAPTION: Vast distances and extreme weather mean that rail is the main mode of freight transport in Russia, with a 93% market share of non-pipeline traffic. 'The roads are not good', said Priit Pedaja of Globaltrans, 'and even as they improve, how many trucks would it take to replace a train over 4 000 km?'