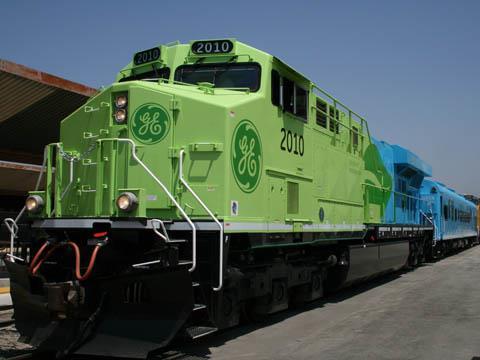 GENERAL Electric officially unveiled its prototype hybrid road switcher at Los Angeles Union Station on May 24, one of the first outings of a locomotive which GE says has taken five years and $250m to develop.
Numbered 2010 to indicate the year when GE plans to roll out its first production hybrid loco, the 'Evolution Hybrid' looks and operates like a standard ES44 series loco but is equipped with on-board batteries to capture and store energy dissipated during dynamic braking. The stored energy is then at the disposal of the locomotive crew, and is able to provide an additional 2 000 hp for short periods before the batteries need recharging. GE estimates the stored energy should reduce fuel consumption and emissions by as much as 10% compared to the standard road switchers currently in production.
The prototype is powered by GE's successful GEVO-12 engine, which produces 4 400 hp from 12 cylinders rather than the more conventional 16. A hybrid cooling system and air-to-air intercooler independently control the manifold air temperature, but the non-hybrid parts of the locomotive are as standard.
Loco 2010 is a rebuild of one of GE's existing demonstrator fleet, and was exhibited as a work-in-progress prototype rather than a finished product, with the aim of giving professional engineers their first practical taste of what the technology could, or could not, do on the road.
GE has enlisted several North American railroads, including BNSF and Union Pacific, to serve on its advisory board for the development of the technology, and the loco was accompanied by a test car, a Union Pacific loco and a short rake of passenger cars on its journey to Los Angeles over CSX and Union Pacific tracks. The loco was wired with myriad test equipment to gather data en route, and after the event it returned to GE's headquarters in Erie, Pennsylvania, for further evaluation and work.
Green choice
Evolution Hybrid is not the first of the environmentally-friendlier designs which the North American locomotive industry has brought forth in recent years. The US Environmental Protection Agency is mandating adherence to stricter federal clean air guidelines. In addition the states of Texas and California are offering monetary assistance to help replace older locos with newer designs.
Canadian company RailPower Technologies is producing the Green Goat, a diesel hybrid using banks of lead acid batteries trickle-charged by an on-board 300 hp engine. This has found acceptance with BNSF and UP, and other users include Amtrak, Norfolk Southern, Canadian Pacific and Kansas City Southern, as well as the US military and a number of industries.
Another concept finding acceptance is the genset loco, which has a number of smaller diesel engines on board to produce the same horsepower as a typical single-engine loco. When the loco is idling, only one smaller engine is working while the others are shut down, cutting emissions. The other onboard gensets automatically start up and come on line when the additional demand for horsepower is required. In addition, the single operating onboard genset can be programmed to shut down at specific intervals when idling, restarting automatically when needed to keep internal fluids at their proper operating temperatures.
Other attempts to clean up emissions include installing aftermarket exhaust filters to older locos. Basically catalytic converters similar to those found on cars, these use high-temperature silicon carbide blocks to trap particulates. As the gases accumulate, the device periodically heats the carbon, which causes it to ignite and burn off as CO2. One-year trials are underway in Texas and California to determine if it is feasible to retro-fit older locomotives with the technology (RG 7.06 p391).