A focused business plan and solid financial backing are enabling traction provider Hector Rail to target specific needs in Scandinavia and beyond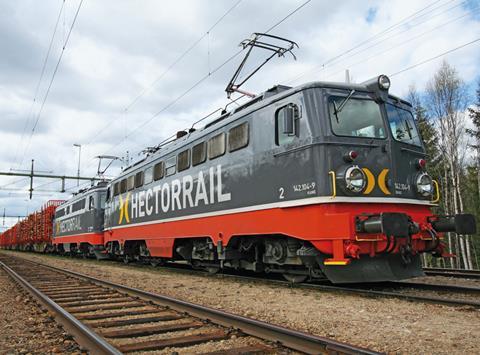 Mats Nyblom, Managing Director, Hector Rail
LESS THAN three years have passed since Hector Rail ran its first train on December 12 2004, and we are already the largest private rail operator in Scandinavia with some 20 locomotives in service.
Hector Rail currently operates around 2·4 million train-km a year in Sweden and Norway, and we will begin operating in Denmark and Germany during January 2008. This rapid development has grown out of our clear and focused business concept and a strong financial base.
Hector Rail is a traction provider, and we see ourselves in the railway market, not the transport market. We have provided traction for passenger as well as freight trains, and can also provide wagons and shunting activities to complement line haulage.
The right market
Hector Rail has three important assets: our customers, our drivers and our locomotives.
We see only a few companies as potential customers. These must be able to buy complete trains, which will run frequently and for long periods. These customers can be divided into groups: shippers with very large volumes, for instance the steel or paper industries; forwarders with very large volumes; intermodal operators such as Hupac and Kombiverkehr; and traditional railways which are looking to focus on logistics or seeking to complement their own traction with bought-in haulage.
As a traction company we are also open to providing traction for passenger trains. As well as existing railways, we believe we have identified a possible future market supplying companies such as airlines and bus operators who are seeking to enter the rail market, but do not have the rail-specific technical skills which will be required to do so.
Some people will be surprised that we see existing railways as potential Hector Rail customers, but we are convinced that the future will bring a more open-minded attitude in the railway business. Scandinavia's state-owned railways have all developed strongly in their deregulated markets, and companies like Sweden's Green Cargo, Norway's CargoNet and DB Logistics company Railion are well-managed and profitable businesses. This proves competition and deregulation is beneficial for all parties involved, including the older and dominant players.
It would be unwise for such competent companies not to adopt the best solutions for their customers, even if this means outsourcing some of their traction needs. So far there has been internal resistance within the old railways to looking at the market with such modern, open-minded and customer-focused eyes, but we are now seeing a move in this direction which will be positive for the rail sector as a whole. Sometimes we will compete, and sometimes we will co-operate, depending on what is most beneficial for the customers.
Growing business
Hector Rail's first contract back in 2004 was to provide Danish freight forwarder Euroshuttle with traction for six trains per week between Hønefoss in Norway and Hallsberg in Sweden. Unfortunately Euroshuttle went bankrupt during the summer of 2006, but their business has been taken over by another company and the trains continue to run.
Our second contract was with Scand Fibre Logistics, and covers 1·5 million train-km a year linking various paper mills to Hallsberg.
In January this year Hector Rail began operations for the Swedish company SCA, transporting 1·8 million tonnes of timber from inland forests in the Östersund area to paper mills on the coast under a 10-year contract. The contract requires 94 four-axle wagons as well as one Vossloh G2000 diesel and seven electric locos, which have been equipped with radio remote control.
The operation of overnight trains in Sweden was deregulated in January, and Veolia Transport chose Hector Rail to haul sleeper trains from Göteborg and Stockholm to the Åre, Duved and Storlien ski resorts in Jämtland during a five-week winter sport season from January to March, competing against state railway SJ.
The same month we signed an exciting five-year contract with the Dutch forwarder Van Dieren Maritime. From January 2008 Hector Rail will start to operate direct intermodal trains from Norrköping in Sweden to the Ruhr area, without needing loco changesat the Danish or German borders. This is an important step to open up the Scandinavian corridor, strengthening the competitiveness of rail.
Also in January Hector Rail will start operations for Stora Enso transporting more than 600 000 tonnes of timber a year from Norway to the Swedish mills in Skoghall (Karlstad) and Grums over the next five years.
Position of strength
The Høegh family from Norway are the majority owners of Hector Rail, through Höegh Capital Partners which has invested €7m in the company. The family also own shipping company Leif Höegh & Co, with the six-vessel Höegh LNG liquefied natural gas tanker fleet and car transport subsidiary Höegh Autoliners which operates 55 roll-on, roll-off ships.
This substantial backing gives Hector Rail the financial strength to buy our own locomotives, funded on the open finance market without needing to use the leasing companies which are commonly relied on by other private operators. This gives us an opportunity to create a somewhat unique fleet, allowing us to develop our own traction concepts for the benefit of our customers.
We have established a trusting partnership with Austrian Federal Railways, buying eight class 1142 (Hector Rail class 142) locos and three class 1012 (Hector Rail class 141) locos from ÖBB Traktion. These were modified for use in Sweden and fitted with Swedish ATP by ÖBB-Technische Services in Linz, and Hector Rail was responsible for obtaining type approval.
With the new businesses wins Hector Rail will continue to grow throughout 2008 and beyond, as the market shows a growing interest in a company with Hector Rail's individual profile.
CAPTION: Hector Rail has bought eight Class 1142 electric locos from ÖBB. They had been rebuilt in 1995, and five have now been fitted with radio remote control?
CAPTION: In 2006 Siemens supplied Hector Rail with two new ES64F4 locomotives which have replaced Class Rc locos which the operator was leasing from SJ
CAPTION: Hector Rail is taking delivery of 10 Bombardier Traxx F140AC multi-system electric locos which will be able to haul freight trains from Sweden through Denmark to Germany
Hector Rail locomotive fleet