Europe's well-established high speed sector is broadening its horizons to improve access to its services. Speakers at Terrapinn's EuroRail 2008 conference in Milano explained how high speed rail can benefit from improved integration both on the ground and in the air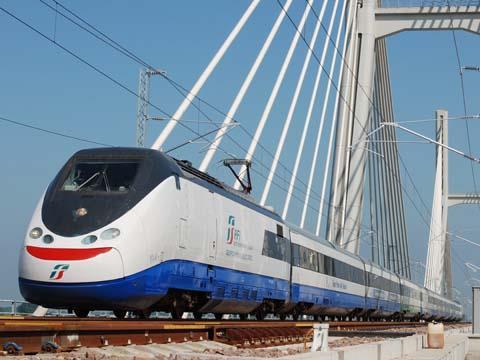 Recasting and expanding local services to feed new railheads is one option that Italy is pursuing to ensure that passengers are within easy reach of a high speed station once its high speed network expands dramatically over the next two years.
FS Chief Executive Mauro Moretti acknowledged that the improved infrastructure should not be used solely for Alta Velocità high speed services, citing the example of Napoli where an improved suburban service would make use of sections of the high speed line to serve the new station being built at Afragola.
Trenitalia's Partnership Development Manger Alessandro Fiorentino highlighted the growing use of print-at-home and mobile phone ticketing in Italy, and suggested that Trenitalia's involvement in local transport provision through its bus subsidiary could be used to integrate ticketing between urban transport and the AV services. He was also optimistic about the prospect of Trenitalia joining the Railteam alliance in the future 'when the ticketing systems are ready'.
While print-at-home and mobile ticketing has been introduced elsewhere, some operators have, by their own admission, been slow to provide sales systems that match the market demand for high speed rail. ?RENFE's Head of High Speed Strategy Daniel Freire Coloma acknowledged that his group needed urgently to upgrade its web sales platform to a standard that ?reflects its high speed service.
Airlines as partners
Integration of high speed rail and the airline sector was a recurring theme of the conference, as delegates acknowledged that air cannot be viewed solely as a competitive threat. This is particularly true for long-haul travel, where rail has the potential to act as a substitute for connecting flights to and from major intercontinental hubs. Certainly NS Hi­speed, in which Air France-KLM holds a 10% stake, hopes to capitalise on the market provided by the station at Amsterdam's Schiphol airport to provide additional city pairs between which through rail-air tickets can be sold.
According to Marc van Heumen of NS Hispeed, the operator is working closely with Schiphol airport to permit passengers to transfer from train to plane having already checked in at their origin station, although security regulations in the EU prevent baggage from being 'through checked' to and from the rail portion. Train managers equipped with PDAs will be able to access airline data to update the check-in status of passengers, and likewise integrated back-office systems will ensure reservations are available for air passengers arriving at Schiphol for onward travel by NS Hispeed. As van Heuman explained, this integrated approach will allow any airline flying through Schiphol to add a rail portion to its network.
Bridging the gap
Eurostar, meanwhile, has successfully morphed into a 'virtual airline' by adopting IATA codes and placing its services within the airline industry's global distribution system. Aimed particularly at the corporate travel agent market, Jamel Chandoul, Head of Distribution and Commercial Systems at Eurostar, explained how Eurostar's integration into GDS provided 'the chance to build a bridge between the airline and the railway world'.
Working with back-office technology specialist Amadeus, Eurostar has been assigned its own IATA carrier code, 9F, and its London, Lille, Brussels and Paris stations have airport codes. IATA's directive that air ticketing will become entirely electronic from May this year has given Eurostar the added incentive to reconfigure its ticketing systems to allow passengers to check in using e-tickets booked through airline reservation systems such as Galileo and Sabre. These are now able to communicate with Resarail, Eurostar's reservation and inventory system, thus providing booking agents with transparent choice between air and rail for cross-Channel journeys. 'This project opens up Eurostar as a viable option for travellers who may previously not even have known of its existence', Chandoul added, citing Japan and the USA as key markets that GDS would enable it to target.