After a delayed start, construction of the Jakarta – Bandung high speed line is finally moving ahead, with opening now expected in 2021. Toma Bačić investigates.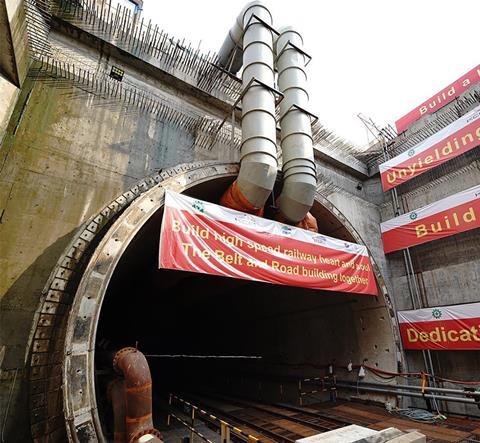 Construction of Indonesia's first high speed line reached a significant milestone on January 26, when concessionaire PT Kereta Cepat Indonesia China announced that the project was 50% complete, and on course to become operational in 2021.
It is now four years since President Joko Widodo attended a groundbreaking ceremony near Jakarta in January 2016, and the opening date has already slipped back several times. When the 50-year design-build-operate concession was signed by the Ministry of Transportation and KCIC on March 16 2016, the opening date was somewhat optimistically set at May 31 2019. However, the project company reports that work is in full swing to make up time. Construction is expected to create around 40 000 jobs a year in Indonesia.
The high speed line concession had been hotly contested between Japan and China, and the former were very unhappy when Indonesia announced in September 2015 that it had selected the Chinese bid, reportedly on the basis of Chinese willingness to accept a much bigger financial risk. Under the final agreement, the Indonesian government is not required to provide any of the financing, but it will assume ownership of the line and all its assets at the end of the 50-year operating period. The KCIC joint venture is 60% owned by Indonesian interests, including national railway PT KAI, and 40% by Chinese firms (Table I).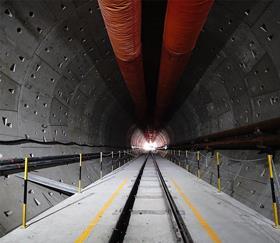 Officially priced at US$5·1bn, the line is being 88·2% financed by a US$4·5bn loan from the China Development Bank, with which the final financial agreements were signed on May 14 2017. The remaining funds are being provided by the KCIC partners. Using the official figures, break-even is expected after 40 years of operation, although local media suggest that the overall cost of the project has now increased to more than US$6bn.
As well as the need to finalise financial terms, the postponement of the opening date reflects problems with land acquisition and a slow start of construction. By spring 2018 the opening date had been put back to October 2020, and in February 2019 it was moved to March 2021. Even then, it was not until almost the end of 2019 before KCIC was able to announce that 99% of the necessary land had been acquired.
Table I. Shareholders in high speed project company PT Kereta Cepat Indonesia China
| | |
| --- | --- |
| China (40%) | |
| China Railway International Co | 2·0% |
| China Railway Engineering Corp | 12·0% |
| Sinohydro | 12·0% |
| CRRC | 4·8% |
| China Railway Signal & Communication Co | 9·2% |
| Indonesia (60%) | |
| PT Wijaya Harya | 22·8% |
| PT Kereta Api Indonesia | 15·0% |
| PT Perkebunan Nusantara VIII | 15·0% |
| Jasa Marga | 7·2% |
Elevated route
Running for 142·3 km through western Java, the line will connect two huge metropolitan regions. Greater Jakarta now houses an estimated 31·7 million inhabitants, with another 8·2 million living in and around the central Javan city of Bandung.
With its termini at Halim in the southeastern suburbs of Jakarta and Tegalluar in Bandung, the route will have two intermediate stations at Karawang and Walini in West Java province. The stations at Halim and Walin will be elevated, and the other two at ground level. More than half of the route — 82·7 km in total — will be elevated, and a further 16·8 km will run in tunnel, with an internal diameter of 12·6 m.
The first Chinese-made tunnel boring machines were shipped to Indonesia on October 1 2018, and by the following May the first of the 13 tunnels had been excavated — the 608 m Walini tunnel located near the station of the same name. Construction of the 1 860 m Tunnel 1 is now reported to be almost complete.
Following Chinese standards, the ballastless 1 435 mm gauge track will be laid at 5 m centres, allowing for operation at up to 350 km/h. This is expected to give a fastest end-to-end journey time for non-stop trains of 36 min — a significant saving compared to more than 3 h on the existing 173 km long 1 067 mm line. Ridership is estimated at 44 000 passengers/day in the first year of operation.
The line will be worked by a fleet of 11 eight-car trainsets of the CR400AF Fuxing type. These are being supplied by CRRC Qingdao Sifang under a 2·5bn yuan contract awarded in April 2017, and are due for delivery later this year. They will be maintained in a dedicated depot near the Tegalluar terminus in Bandung. Each train will have capacity for 555 passengers in second class, 28 in first class and 18 in VIP class. Local reports suggest that a second build of gauge-changing trainsets may be ordered to allow through running onto the 1 067 mm gauge main line east of Bandung.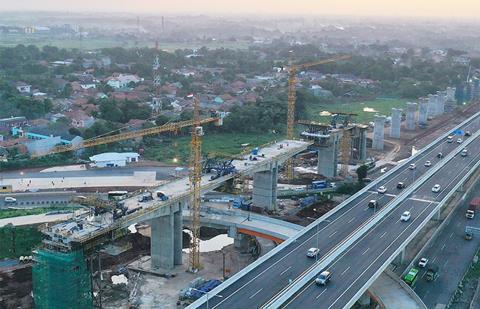 Extensions and connections
With the high speed line terminating in the suburbs of Bandung, PT KAI announced on December 13 2019 that it is to develop a 16·2 km rail link connecting the Tegalluar terminus to its main station at Kebon Kawung in the city centre. Expected to cost 4tr rupiah, the project requires the construction of 4·2 km of new line including 2 km on an elevated alignment; the remainder will make use of existing infrastructure.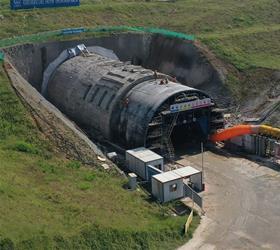 The connecting shuttle service will be worked by a fleet of five diesel trainsets, each with capacity for 300 passengers; journey time from Tegalluar to Kebon Kawung is expected to be 27 min.
In February 2018, proposals were announced for a 60 km extension of the high speed line from Tegalluar to Kertajati International Airport, about half way from Bandung to the north coast city of Cirebon. However, there is no timeline for this project.
Meanwhile, following two years of negotiations, Indonesia and Japan signed an agreement on September 24 2019 for modernisation of PT KAI's 720 km north coast main line between Jakarta and Surabaya at an estimated cost of 60tr rupiah. The 1 067 mm gauge main line is to be upgraded for 160 km/h operation, with several sections to be elevated, and almost 1 000 level crossings to be grade-separated. The work is to be split into two phases, covering the 436 km from Jakarta through Cirebon to Semarang in central Java and the 284 km from there to Surabaya.