Pat Mangan, Assistant Secretary at Ireland's Department of Transport, told Andrew Grantham how a 10-year strategic plan will rectify decades of under-investment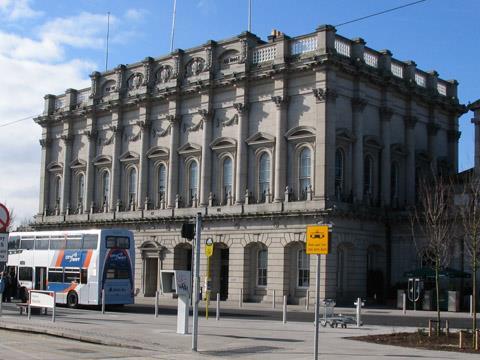 THE FUTURE of Ireland's railways is now secure, but a decade ago the network was approaching a crisis. In October 1984 the Irish government published a national plan, Building on Reality, which responded to an earlier report by consultants McKinsey on the future of state transport company Coras Iompair Éireann by announcing that there would 'be no new substantial investment in railways'. This led to a serious, and sustained, lack of investment in all forms of transport, from railways to roads.
In the mid-1990s EU money was being spent on rail infrastructure, but there was little state funding, other than significant revenue support for socially desirable services the railway was obliged to provide. 'The infrastructure was getting older,' explains Pat Mangan, who was appointed Assistant Secretary at the Department of Transport in June 1995. 'Safety was becoming an increasing issue. If you've got to reduce speeds all the time, you get a poorer service. We couldn't continue as we were.'
The problems came to widespread attention in November 1997, when a Dublin to Westport train derailed in County Roscommon, injuring a number of passengers. The following month the Minister for Public Enterprise announced an independent review of railway safety. The resulting November 1998 report by International Risk Management Services recommended a 15-year investment programme to address the problems.
The government then 'made the decision to keep the railways, and deal with the safety issues', committing itself to an initial five-year €550m safety investment programme, says Mangan. 'Having taken that decision, the question was what to do with the railways'. To answer this and develop a 20-year vision, the government commissioned Booz Allen Hamilton to produce a strategic rail review (RG 5.03 p248). Published in April 2003, this found that the network needed expenditure of around €4·5bn over 20 years. Further development to meet future demand in a growing market would require a similar sum.
Growth funds spending
Fortunately, the Irish economy had entered an unprecedented period of rapid, sustained growth. Dick Fearn, Chief Operating Officer of Iarnród Éireann (p275) points out that 'the issues came to a head when there was money to invest'.
'Through the 1990s the EU money that came in was absolutely crucial,' says Mangan. In 1998 €51m of EU funding was allocated to increase capacity in the Dublin area, through infrastructure work and the purchase of rolling stock. A further €15m was allocated to main line track upgrading. The current EU 2000-06 investment programme is providing €300m, 'but we are now spending more than that in any one year. In 1996 the state was putting in about €400 000 per annum in capital investment in all public transport. We are now putting in something like €400m', a big increase 'in a very short space of time'.
The initial five-year programme of safety investment was completed in 2003, at a final cost of €600m. Around 650 km of track was relaid, level crossings were upgraded and 'deficient' safety management systems improved. Work is now underway on a second phase, running to 2008.
Investment in the inter-city network is now planned through to 2009. 'We are now investing in service', explains Mangan. 'We have committed significant resources to rolling stock' and the focus is on 'improving the product, and the quality of the experience' in the inter-city market. 'We've addressed safety, and we have got a clear strategic underpinning for the future.'
But the biggest investment is in Dublin, where 'the issue is very different'. Railways are 'a very important part of dealing with the traffic congestion due to our economic success and increasing travel. We have under-invested in public transport in the past.' This has created the twin problems of bringing the infrastructure up to modern standards, and expanding capacity to cope with increasing mobility. 'There is latent demand out there that we are keen to tap into.'
Financial package
In December 2004 the Minister for Finance announced in his budget statement that he was prepared in principle to agree to a 10-year financial package for transport investment, allowing a greater degree of strategic planning.
'Rather than taking a piecemeal, project-by-project approach to transport investment, we are going to present a vision of a future characterised by a highly-efficient transport system which enhances quality of life and promotes competitiveness', said Transport Minister Martin Cullen, commenting on the budget announcement. 'We are going to outline the projects necessary to deliver this vision, the resources they require and delivery timelines.' No set sum of money has been allocated, but investment could be around €25bn over the first five years.
The Department of Transport, operators and planners are working on proposals which will be presented to the government later this year. The 10-year plan will make the key decisions and set out transport investment up to 2014, with the details to be finalised in on-going discussions.
According to Mangan there is a 'general agreement about the need to invest in transport' across the political parties, as 'everyone accepts there has been significant under-investment in transport generally'. Once the plan is published, 'we can mandate our agencies to get on with what is in it'.
Providing an important input to the investment plan, the Dublin Transportation Office has published a 10-year strategic transport document for the capital. Along with IÉ, the DTO has proposed 'a step-change in the suburban rail network', with the Interconnector tunnel (p276) linking the lines into Heuston with those north of Connolly as the centrepiece. This will bring 'much greater capacity, and a reconfiguration of services' as the suburban lines will need to be electrified.
The Dublin proposals include a metro, the first phase of which would run from the city centre north to the airport and Swords. This would in due course incorporate the existing Luas light rail Green Line between Sandyford and central Dublin, which was built with conversion in mind. The Railway Procurement Agency has been negotiating with private developers for the provision of funding through a development levy for an extension south from Sandyford to Cherrywood, and the Department of Transport 'hopes to receive an application for a railway order for this extension later this year.' Another application is expected for a 1·5 km extension of the Tallaght line from Connolly station to the Dublin docklands, and the Minister recently asked the RPA to consider a connection between the two existing light rail lines in the city centre.
The strategic plan for the Cork area recommended reopening of the line to Midleton, closed in the 1960s. Urban development will be focused along the corridor, with reinstatement of the line partly funded from development levies. Mangan says the project 'is very attractive because it brings land use together with transport, putting in private money through development contributions'.
This month a working group is expected to produce a study on reopening the Ennis to Sligo route in the west of Ireland. This could include a new link to Shannon airport: 'the railway is not that far from Shannon, but it doesn't serve it.'
Reform and rail freight
While consideration is being given to opening up the bus market, there are no plans for franchising or privatisation of the railways. However public-private partnerships are contemplated for metro and light rail.
National transport holding company Coras Iompair Éireann was created in 1945 as a single organisation, but in January 1987 CIÉ was restructured as a holding company for Iarnród Éireann, Bus Éireann and Dublin Bus. The separation has since grown, and now 'we deal more with individual operating companies than we have in the past', says Mangan. There is some bus-rail competition in the long-distance market, particularly between Dublin and Galway, a route which now has private coach operators.
Rail freight is 'difficult in the Irish situation of a small size and no physical connection' to the European network. A 1990 study found that 70% of all freight movements from Dublin port were under 75 km, 'not an easy market for the railway', and so the focus is on 'niche markets where rail has a sporting chance.' There are 'occasional pressures to introduce financial support for rail freight, and if a strong case is made we will look at it, but I don't think that case has been made. We've put money into capital investment, but there is no revenue subvention for freight.'
At the moment rolling stock is being bought rather than leased. 'We don't rule anything in or anything out', and in each case the National Development Finance Agency will 'advise on the most appropriate funding mechanisms'.
Iarnród Éireann is still a vertically integrated railway. 'We published a consultation document in 2000 on regulatory reform generally', says Mangan, which suggested separation as a possibility. Subsequently an independent review for the Minister assessed the whole structure and operations of IÉ and recommended changes in the organisation, but 'it recommended that we shouldn't separate infrastructure and operations and we have accepted that'.
The European Union 'hasn't raised any issues' with this, as 'there is full accounting separation, but not physical separation. It is probably not a major issue on a small railway. We don't have people knocking on our door to come in and operate.'