A long-distance piggyback service between Perpignan and Bettembourg is due to start in March 2007, and Modalohr President Philippe Mangeard envisages an expanding network which will reach Trieste, Rotterdam and central Europe by 2012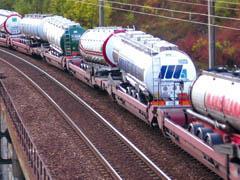 'THE PRICE is better, transit times will be faster and we can accept heavier lorries, so we expect the service to be very popular. And to start with we are only looking for a very small share of the market, so we should be successful commercially.'
Modalohr President Philippe Mangeard is very optimistic about the prospects for the new Autoroute Ferroviaire intermodal service between Perpignan and Luxembourg, which is due to start running on March 31 2007.
The north-south rolling motorway service will be the next commercial application for the twin-section low-floor piggyback wagons which Modalohr developed for the transalpine shuttle service on the 175 km Fréjus corridor between Aiton-Bourganeuf in France and Orbassano in Italy (RG 5.02 p266).
Launched by the Autoroute Ferroviaire Alpine joint venture in November 2003, the Fréjus service was slow to take off, but is now handling more than 500 vehicles each week, which is ahead of the original target. The pilot project is being subsidised by the two governments for an initial period, but Italian Transport Minister Alessandro Bianchi, Infrastructure Minister Antonio di Pietro and French Transport Minister Dominique Perben agreed in July to extend the service beyond the original July 1 2007 end date and work towards establishing a permanent operation.
The service is still limited to 3·8 m high lorries because of loading gauge restrictions, but RFF is expected to clear the line for 4 m high vehicles in the near future. Perben signed an agreement in December 2005 releasing €90m to fund upgrading work on the Dijon - Modane route by the end of 2008.
Perpignan - Luxembourg
Work has already started on the infrastructure improvements needed to accommodate the north-south service, following formal approval of the Autoroute Ferroviaire project by Perben in December 2005 (RG 1.06 p7). Transport infrastructure funding agency AFITF has allocated k15m to RFF for loading gauge clearance along the route, and two loading terminals are under construction at Le Boulou, 20 km south of Perpignan, and at Bettembourg in Luxembourg.
A separate operating company, known as Lorry-Rail, has been formed to manage and market the service. This is owned by Caisse des Dépôts et Consignations, Vinci Concessions, Modalohr, SNCF and Luxembourg rail operator CFL.
Unlike the transalpine service, the new route will not get any operating subsidies from the French government, but Mangeard believes the financial prospects are 'very good indeed'. Perpignan currently sees around 6 000 lorry movements a day, he says, of which 1 500 are going to the region around Luxembourg and northeast France. 'We do not need to attract even 5% of this market to fill the trains.'
The service will start with one train each way per day, running overnight in each direction. Formed of 20 twin-section wagons, the 750 m long trains will be able to carry up to 40 semi-trailers, giving an annual capacity of around 30 000 vehicles/year. Unlike the shorter Fréjus route where the tractor units are also transported, the north-south route will only carry unaccompanied trailers. End-to-end journey time for the 1 000 km trip will be around 15 h.
If all goes well, he predicts that the service could be stepped up with a second train after nine months, and he believes that eventually there could be as many as 20 trains each way per day serving the corridor. Studies are underway for further terminals at Dijon, Lyon and Marseille, which would expand the potential market.
These extra terminals could be served by the same trains, making intermediate stops, with separate trains linking each pair of terminals as the market expands.
Mangeard is confident that the service will cover its operating costs. 'Hauliers are keen to use rail', he says, citing growing road congestion, EU limits on drivers' hours and rising fuel costs. Another potential attraction to lorry operators is the opportunity to use the heavier 38 tonne semi-trailers permitted for intermodal services.
'Including motorway tolls, the current cost of operating a lorry is around k0·90 to k1·07 per km', he explains. 'So we need to keep below that figure. Assuming we charge a maximum of k0·90 per km, we could expect a revenue of €36 per km with a full train. Our costs should not exceed k20 per train-km (Table I), leaving a gross margin of 45% if the train is full or 38% with a 90% loading'. Break-even comes at load factor of around 55%. 'Using rail will actually be cheaper, and we will be offering a better quality of service. And to ensure operational reliability, we plan to buy two paths for each train.'
The piggyback wagons will be leased, rather than purchased outright, and Mangeard says several rolling stock leasing companies have expressed interest in the project. Modalohr expects to build between 100 and 200 wagons a year as the network expands.
Whereas the Fréjus service is operated jointly by Fret SNCF and Trenitalia Cargo, Mangeard says Lorry-Rail plans to take advantage of the recent liberalisation of the French rail freight market and invite competitive tenders for the operating contract. 'There is no commitment to use SNCF or CFL - we will see who puts in the best bid', he insists.
Atlantic axis
Even before the Perpignan - Luxembourg service starts running, studies have been commissioned for further routes. The next priority is the so-called Atlantic Axis from the Spanish border at Hendaye to Paris and Nord Pas-de-Calais. Initial terminal sites have been identified at Bayonne and in the southern suburbs of Paris, and Mangeard is hopeful that a service linking these will begin during 2008.
As with the Fréjus route, this service will initially be restricted to 3·8 m high lorries, notably tankers, but infrastructure works are planned to clear the Bayonne - Poitiers line to UIC GB1 within five years. Modalohr is also looking at the possibility of running south of Bayonne and into Spain, either to a terminal at Irun or over ADIF's planned standard-gauge route to Vitoria which Mangeard believes could be operational by 2012. At the northern end, the route may be extended to the intermodal hub at Dourges, near Lille in 2009.
Once again the potential market is huge. Mangeard says the Hendaye border crossing is used by around 7 000 lorries a day, of which the consultants identified around 500 movements which could use the initial service - more than 10 times the 40 trailers that Lorry-Rail will need to fill the train.
International expansion
In parallel with the launch of the two north-south routes, Mangeard says there is considerable potential to expand the initial transalpine service, where the Orbassano terminal near Torino is well-placed to serve the industrial regions of northern Italy. He envisages the introduction of routes linking Orbassano with both Perpignan to the south and with Bettembourg and Dourges in the north.
Modalohr is already investigating the potential for extending the intermodal corridor across Italy to the Adriatic port of Trieste. This is an increasingly important hub for ferry traffic to and from Istanbul, circumventing the Balkan states. With thousands of unaccompanied semi-trailers arriving at the port each year, there is once again a heavy volume of lorry traffic to provide a profitable baseload.
A few years ago the Turkish lorry operators formed an association to lobby for onward intermodal services from Trieste, avoiding the need for them to obtain transit certificates to use the Italian motorway network. Working with Ökombi of Austria and Trenitalia, the association has already backed the introduction of a rolling motorway service between Trieste and Salzburg, with 24 trains a week each handling 20 semi-trailers.
For Turkish traffic heading to the northwest, Modalohr envisages a Trieste - Aiton - Luxembourg service, known as Ro-Ro-Rail. The target date for this is 2009, when the Fréjus line will be cleared to GBA standards. Plans for construction of an intermodal terminal within the Port of Trieste are due to be finalised by the end of this year. As a stop-gap measure for 2007-08, discussions are underway with the Italian authorities to permit Turkish lorries to use the road between Trieste and Orbassano until the rail service is ready.
The proposed Marseille terminal will be conveniently located to serve the chemical industries around Fos-sur-Mer, which currently generate substantial traffic to and from northern Italy via the A8 motorway through Nice. Mangeard is very keen to launch a Marseille - Orbassano intermodal service in 2009, possibly extending it to a new terminal near Milano at a later date.
North and east
Looking beyond the French borders, Modalohr sees the potential for a rapid expansion of intermodal operations throughout the European Union between 2010 and 2015. The company believes that this would dovetail nicely with the EU's objective of transferring more international freight from road to rail.
CFL envisages its Bettembourg terminal as a hub for a network of east-west routes, and has commissioned studies for a service through Germany to western Poland, which could be extended to Belarus and/or Lithuania. Given the right investment, Mangeard believes that an east-west shuttle service across Poland and into eastern Germany could start as early as 2009, as the poor quality of the local roads would make rail an attractive alternative.
Another projected corridor would link Luxembourg with Frankfurt-am-Main, Regensburg and Wien, with a possible extension through Hungary to Romania. Another prime target is the Rotterdam - Luxembourg - Basel - Milano corridor where the Sibelit alliance is working to develop conventional rail freight operations. The Rotterdam - Milano axis is already well served by competing container trains, but there has been relatively little provision for piggyback operations. This corridor could also continue beyond Milano to serve Trieste, with a possible extension to Ljubljana and further east in the longer term.
Modalohr sees Germany as another prime target for its emerging European network, with studies underway for a number of routes. One target is a north-south route from a Baltic Sea port - either Lübeck or Rostock - to Frankfurt and/or Luxembourg, which would feed into Lorry-Rail services south to Perpignan and eventually across the Spanish border to Barcelona and beyond. Another plan envisages a Baltic - Berlin - München - Verona service over the Brenner corridor, again adding piggyback capability to what is today mainly a container market.
One of the biggest challenges will be extending the network through the Channel Tunnel into the UK. Lorry-Rail's plans envisage running two services from a London-area terminal, making use of the larger loading gauge of the Channel Tunnel Rail Link. One would run to Lille and Luxembourg, feeding into other services from the CFL hub, and the other would run to Lille and Paris, connecting with the routes to Bayonne and Perpignan.
Mongeard is confident that the Modalohr vehicles would not need special clearance to run through the Channel Tunnel, as they are certified as conventional freight wagons. But given the ongoing uncertainty over track access charges for freight trains following the expiry of Eurotunnel's Minimum Usage Charge agreement at the end of this month, it is far from clear whether Lorry-Rail will be able to serve London by 2012 as it proposes.
Despite these uncertainties and other local hurdles, it is clear that the company's ambitions remain undimmed. 'There is a huge market out there', insists Mangeard. 'We have a proven technology, an attractive business case, and we offer clear benefits for the users as well as environmental advantages. I see no reason why we should not be very successful.'
Photo: Construction of the loading ramps has started at the Bettembourg terminal in Luxembourg, which is due to see its first trains in March
Photo: Loading gauge restrictions currently limit the Aiton - Orbassano service to tankers and low-height lorries, but the trains are now carrying more than 500 vehicles a week
Photo: Key to the Modalohr concept are the diagonal ramps at each terminal which permit a whole train of swing-platform wagons to be loaded simultaneously
Photo: Over the next six years, Modalohr hopes to develop a Europe-wide network of piggyback routes which will help to attract long-distance lorry traffic from road to rail
Photo: CFL envisages its Bettembourg terminal as the hub of a pan-European intermodal network
Modalohr envisage une expansion dans l'Europe entière
Avec des volumes de trafic supérieurs aux projections pour la navette pilote entre Aiton, en France, et Orbassano, en Italie, une deuxième relation transportant des remorques routières sur des wagons à plateau pivotant doit commencer en mars 2007 entre Perpignan et Bettembourg. Philippe Mangeard, président de Modalohr, déclare qu'une société séparée va être créée pour exploiter les services intermodaux à travers l'Europe, avec un itinéraire Atlantique entre Bayonne, Paris et Dourges, dans le nord de la France, qui doit commencer en 2008. Il espère que des relations vers Trieste, Rotterdam et l'Europe centrale verront le jour d'ici 2012, en même temps qu'une liaison vers London via le tunnel sous la Manche
Modalohr plant europaweite Expansion
Mit Verkehrsaufkommen weit über den Voraussagen beim Pilot-Shuttle zwischen Aiton in Frankreich und Orbassano in Italien, wird ab März 2007 eine zweite Verbindung mit Sattelaufliegern auf Schwenkpaletten-Wagen zwischen Perpignan und Bettembourg eingerichtet. Philippe Mangeard, Präsident von Modalohr, sagt, dass eine separate Gesellschaft gegründet werden soll, welche europaweit kombinierten Verkehr anbieten soll, beginnend 2008 mit einer Atlantik-Route zwischen Bayonne, Paris und Dourges in Nordfrankreich. Er hofft, dass Angebote nach Trieste, Rotterdam und Mitteleuropa im Jahre 2012 beginnen können, zusammen mit einer Strecke durch den Kanaltunnel nach London
Modalohr planea expandirse por toda Europa
Con importantes avances en los volúmenes de tráfico en la conexión piloto entre Aiton (Francia) y Orbassano (Italia) más allá de las proyecciones, se prevé el comienzo de un segundo servicio que transportará remolques de camión en vagones especiales Modalohr entre Perpignan y Bettembourg en Marzo de 2007. El Presidente de Modalohr, Philippe Mangeard comenta que se ha formado una empresa distinta para operar los servicios de transporte combinado por toda Europa, esperándose en 2008 una ruta atlántica entre Bayonne, Paris y el norte de Francia. El Sr Mangeard espera que los servicios a Trieste, Rotterdam y la Europa central comiencen hacia 2012 junto con una ruta hacia London a través del túnel bajo el Canal de la Mancha