Originally established by railway enthusiasts, SKPL has grown into a significant commercial operator of regional services on narrow gauge networks closed by Poland's state railway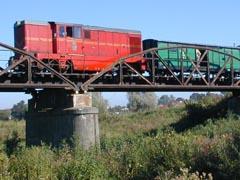 Mgr Inz Andrzej Gibek and Mgr Inz Piotr Peszek
Traffic & Timetable Specialists
Stowarzyszenie Kolejowych Przewozów Lokalnych
FEBRUARY 4 2002 was a signficant day for Poland's Local Railway Traffic Association. SKPL ran its first train with its own staff operating rolling stock bought or leased from Polish State Railways. On October 20 2004 SKPL became a licensed operator of public freight and passenger trains, and we now provide services on five previously-mothballed 750 mm gauge railways with a total route length of 346 km.
We now employ 33 staff, operating and maintaining our infrastructure as well as 27 locomotives, six diesel railcars, 13 coaches and 238 freight vehicles. The infrastructure is leased from the various local authorities.
We are currently developing plans to take over the 65 km Mlawa Narrow Gauge Railway in northern Mazovia, where we believe there is an opportunity to develop the rail freight business.
We hope to expand our activities to include standard gauge services. Subject to the acquisition of suitable rolling stock, we plan to start by operating local freight trains, probably in co-operation with PKP Cargo. This will enable us to offer our freight customers integrated through transport between standard and narrow gauge routes.
First reopenings
PKP withdrew its last narrow gauge service on June 22 2001, with the closure of the Smigiel Railway in Wielkopolska. Originally promoted by the local authority and opened as a metre-gauge route in 1900, the SKD line had become part of PKP on July 1 1949 and was rebuilt in 1951 to the 750 mm gauge more common in Poland.
Following abandonment by PKP, re-opening to passenger traffic under the stewardship of SKPL took place on February 4 2002. We ran trains between Sniaty, Smigiel and Stare Bojanowo Wask, and in September 1 2002 the Sniaty - Wielichowo section was reopened after repairs to track which had lain unused for eight years.
School children form the majority of passengers on our weekday services on the 23 km route, and we also run tourist services on summer weekends. In 2004 we sold 20 746 single tickets and 19 530 monthly tickets for travel on SKD services. In July 2002 freight traffic returned in co-operation with PKP Cargo, whose standard gauge wagons are carried on our narrow-gauge transporter vehicles with a single PKP consignment note. In 2004 the line carried over 19 000 tonnes of coal, 900 tonnes of cement, 325 tonnes of fertiliser and 25 tonnes of sugar.
Following the success of this initial reopening, on April 2 2002 SKPL took over the Kalisz Narrow Gauge Railway network. Three 750 mm gauge lines with a total length of 65·4 km connect Turek, Zbiersk, Opatówek and Russów, with a spur from Turek to Adamów power plant and the Profi M furniture warehouse.
PKP passenger services between Zbiersk and Turek had ceased on November 16 1989, with the final two pair of trains on KKD withdrawn on August 1 1991. Our first freight train ran on July 5 2002, and traffic has grown since that time. During 2004 we moved 3 151 tonnes of coal, 252 tonnes of coke, 39 010 tonnes of sand and gravel, 840 tonnes of cement, 1 394 tonnes of fertiliser, 6 628 tonnes of sugar and 5 515 tonnes of timber.
This summer we re-introduced limited passenger operations, running tourist trains from Zbiersk to Russów on the first Sundays of June, July and August in connection with events at Russów museum. Just 525 tickets were sold for the tourist trains, but talks have been held with the local government with a view to reviving passenger services between Zbiersk and Turek and Zlotniki and Russów, where there are opportunities for school traffic. Unfortunately the Borków - Kalisz branch was dismantled three years after the network closed.
Tourist trains
The 46·4 km PKD line running from Przeworsk to Dynów through the attractive landscape of the Dynów plateau was opened on September 8 1904, transporting sugar beet to a factory in Przeworsk. PKP withdrew regular passenger trains on June 9 1990, but ran a tourist service from August 22 1993 until the closure of the line at the end of September 2001.
SKPL revived the tourist trains on July 14 2003, operating on weekends in June, July and August and on Sundays in September, and selling 12 457 single tickets in 2004. Our first freight train on the route left the Kamax shock absorber and piping factory in Kanczuga on November 27 2003, again with a single consignment note covering the through journey onwards with PKP Cargo, and 995 tonnes of freight were carried in 2004.
Tourist trains are almost the sole market for the Naleczów Narrow Gauge Railway, though 59 tonnes of coal was carried last year. The first sections of the NKD were built in the early 20th century by the Zagloba sugar factory, and it developed into a public railway in 1918. The total length is now more than 45 km, but the Karczmiska - Wilków branch is out of use.
We ran a special charter for enthusiasts on March 8 2003, and since then we have concentrated on the tourist market, operating a total of 82 trains during 2004 and selling 6 335 tickets. On alternate Sundays from April to October we run trains from Naleczów to Karczmiska, with passengers stopping for a picnic in a forest clearing at Polanówka.
Market day railbuses
Developed between 1907 and 1915 by the sugar beet industry and subsequently the German military, the Krosniewice Narrow Gauge Railway in the centre of Poland is the largest 750 mm network under SKPL management, with five routes totalling 153·2 km.
SKPL passenger services on KrKD began on October 31 2002, and today diesel railbuses run from the junction at Krosniewice to Ostrowy Wask, Krzewie Wask and Dabrowice on working days. We provide extra trains to Wielka Wies on Thursdays to coincide with the market at Krosniewice. In 2004 we sold 12 719 single tickets and 7 808 monthly season tickets.
Our first KrKD freight train ran on December 8 2003, and today the line's most important customer is the Brzesc Kujawski sugar factory which receives coal and coke and despatches refined sugar. Around 200 tonnes of grain was also carried on the line in 2004.
This summer we replaced 400m of track between Topola and Leczyca which had been stolen. We are now planning basic track maintenance between Leczyca and Ozorków, and expect to introduce a tourist service next year.
Financial situation
Even though SKPL seem to be real railway tycoons, our financial situation is not good enough. Almost all of our profits come from freight traffic, renting out railway property and organising special trains, while local passenger trains do not make money.
Despite a statutory duty on the voivodship authorities to subsidise regional passenger trains, funds are still only given to the 'big' railway, despite narrow-gauge lines needing less funding than PKP Przewozy Regionalne. The reasons are tied up with politics and trade union issues, and at SKPL we feel the interests of weaker parties are being ignored.
Future funding decisions are unlikely to be generous to narrow-gauge railways. The lack of interest on the part of local government could still bring down the business, or at least mean that lines remain dormant. Further development of narrow gauge railways is proving very difficult. There is little political consideration of the development of railways as visitor attractions, and scant interest in protecting industrial monuments, even though many narrow gauge railways can bring in tourists as well as play a role in meeting regional transport needs.