Rail is among the cornerstones of Philippines President Rodrigo Duterte's 'Build, Build, Build' initiative, with investment in and around the capital a priority to alleviate mounting traffic congestion. Peter Janssen reports from Manila.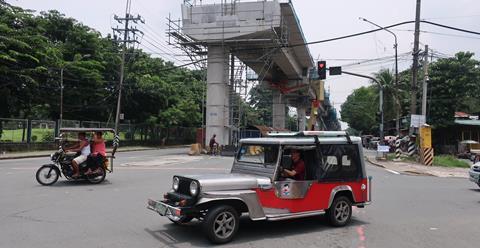 Manila arguably enjoyed a head start among southeast Asian capitals in the construction of metro lines in the 1980s and 1990s, but over the past two decades it has lost its lead in the urban transport race to other regional cities such as Bangkok, Kuala Lumpur and Singapore. Jakarta succeeded in opening its first metro line in March, this year. But now, under the umbrella of Philippine President Rodrigo Duterte's ambitious 'Build, Build, Build' scheme, Manila is starting to make a comeback.
'It's a massive catch up for us', acknowledges Timothy John Batan, Under-Secretary at the Department of Transport. 'When the current administration came on board in July 2016, we had only 77 km of operational railway nationwide.' This comprised the three largely elevated light metro routes built between 1984 and 2004 in central Manila — LRT lines 1 and 2 and MRT3 — and the last operational section of Philippine National Railway route which runs south from Manila along the Main Line South corridor.
Through PNR, the government still owns a legacy network of railways running north and south from Manila. Most of these have been moribund for many years and in some cases have been badly affected by storm damage. But they do provide the basis from which revitalised rail corridors could be developed without complex land acquisition problems.
Build, build, build
Under the BBB investment programme, the government intends to spend around US$150bn over the next decade on improving infrastructure in a bid to enhance the country's economic competitiveness. A significant tranche of this funding is being allocated to rail, with a strong focus on the networks around Manila.
The programme is being underpinned by a variety of financing models. The government has made clear a preference for Overseas Development Assistance loans, but some schemes are being taken forward as Public Private Partnerships while others are described as 'unsolicited' private investments.
Linchpin of the rail spending is the 163 route-km North-South Commuter Railway across Manila, which will incorporate a mix of out-of-use and existing railways. The macroeconomic objective is to diversify economic developments beyond congested central Manila to neighbouring provinces. The government estimated in 2014 that the chronic traffic congestion was causing economic losses of US$18bn a year, and this figure can only have increased as the city's population of 12 million continues to grow.
'Even after all these projects are done there is still a lot more to build, everywhere'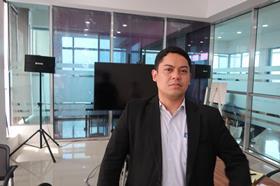 Timothy John Batan
Under-Secretary, Philippine Department of Transport
The commuter rail redevelopment scheme took shape under the previous government of Benigno Aquino, which signed a loan agreement with Japan International Co-operation Agency in September 2015 to finance a 37 km mostly elevated railway between Malolos north of Manila and Blumentritt in the city centre, where interchange would be provided with LRT1. A construction contract for this section worth an estimated US$2bn was won by Sumitomo Mitsui Construction Co last year and preparatory work around Malolos is now underway.
Following the launch of the BBB initiative in April 2017, development work began to extend the northern part of the route from Malolos to the former air force base at Clark, which is being renovated to open as a commercial aviation hub in 2020. The government also started work on constructing the southern section of the route to Calamba, which will largely follow the existing PNR corridor.
The government hopes that the full cross-city route might be completed by 2025, although even this progress is not rapid enough for some. 'This plan has been on the drawing board since three presidents ago, dating back to 2000 when President Cory Aquino came in', says Markus Roesner, principal transport specialist for Southeast Asia at the Asian Development Bank.
NSCR contracts let
Nevertheless, ADB — which is headquartered in Manila — is emerging as a key player in funding the BBB programme. In May it agreed a US$2·75bn loan to finance the civil works of the 51·2 km Malolos – Clark Airport section of NSCR. ADB said this was the largest single loan in its history. Meanwhile JICA is to provide loans to support procurement of the rolling stock, signalling and other infrastructure assets.
Progress on letting contracts is ramping up significantly. On August 27, bids were received for three of six lots on the Malolos – Clark section. These attracted nine international and two local participants, including Acciona (Spain), Hyundai Engineering & Construction (South Korea), Italian-Thai Development (Thailand), and three Indonesian bidders. The two domestic offers were from EEI and Megawide Construction Corp.
Although NSCR is being jointly financed through ADB and JICA, the government sources insist that procurement will be open to international players. 'It doesn't mean that because we have JICA and ADB financing that non-Japanese and non-Asian firms can't participate', reports Batan. 'The JICA loans, for example, only require 30% minimal Japanese content.' He points out that 'the civil works contract packages that ADB is funding are open to ADB member states, both regional and non-regional members, and the non-regional members include a lot of Europeans.'
The Department of Transport has adopted international standards for future railway systems, including specifying electrification and 1 435 mm gauge rather than the legacy 1 067 mm used by PNR. 'This line in particular was deliberately designed to be future-proof', Batan explains. 'It will be an open system, not proprietary. It has ETCS, European standards for other signalling and for vehicle manufacturing. That's deliberate.'
NSCR's initial fleet will comprise 58 eight-car trains, giving an operational capacity of 700 000 passengers/day. Maximum operating speed will be 160 km/h.
The southern part of the NSCR is still at the design stage. This part of the line will run for 54·6 km from Blumentritt to Calamba. ADB and JICA are expected to provide joint financing of up to US$3bn, and it is hoped that the funding package could be finalised before the end of 2020.
Around 90% of the route will be built on land already owned by PNR. 'PNR is still running parallel to our alignment and this will continue to operate during the construction period. So this is a bit more complex to design it and later on the construction will be very complex', says Roesner.
More urban rail to come
While NSCR is focused on supporting economic development away from the city centre, capacity relief is also urgently needed in the urban core. Manila's three operational urban rail lines — LRT1, LRT2 and MRT3 — were built to varying technical and operating standards, while a fourth line, MRT7, has been under construction since 2016.
To these will be added at least one more strategic axis. Being built to high capacity metro standards, MRT9 is being developed to run broadly north-south along the eastern edge of the city centre over a distance of around 36 km. It will be the first urban rail route in Manila to run mostly underground, serving 15 stations in the Quezon City and Pasig City districts. Interchange would be provided with LRT1, MRT3 and MRT7.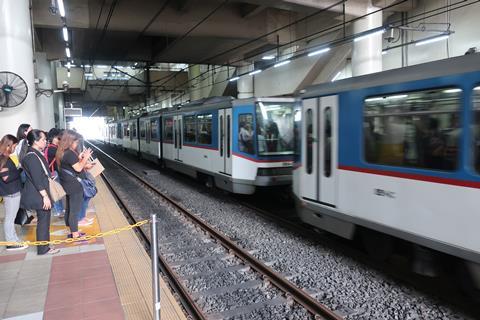 In March this year a contract was signed with a Japanese/Philippine joint venture of Shimizu, Fujita, Takenaka Civil Engineering and EEI to design and build the first three stations for MRT9 at Mindanao Avenue, Tandang Sora and North Avenue.
Funding is being provided through a March 2018 agreement with JICA worth US$938m; total construction cost is expected to be around US$7bn, of which around a quarter would be sourced from the national budget and the rest from JICA. Excavation is scheduled to commence in the fourth quarter of 2019, with the first section of the route serving three stations expected to open by the end of 2022.
Private metro in Makati
In the south of the city, around the financial district, another metro scheme is making headway. In July, the Makati City municipality approved the terms of a US$3·7bn PPP to build a high-capacity link to Paranaque City in the southern part of the conurbation. This 1 435 mm gauge metro line would be 11 km long and serve 12 stations; like MRT9, it would run mostly underground and provide interchange with existing LRT lines and ferry services. It is planned to open in 2025, preparatory works having already started.
The so-called Makati City Subway emerged as an 'unsolicited private project' and does not form part of the BBB programme. Makati and Paranaque are among the 17 'cities' that form metropolitan Manila; each has its own local administrative structure and they are allowed to manage their own infrastructure works.
MCS is to be built by a Philippine-Chinese consortium comprising Infradev Holdings, Greenland Holdings Group, Jiangsu Provincial Construction Group and China Harbour Engineering Co. A property development specialist, Infradev lodged a US$350m performance bond with the Makati City council in July.
Nevertheless, the emergence of these 'unsolicited' developments risks adding to the confusion surrounding Manila's future rail network. 'There are a lot of railway initiatives to connect all the city, so it's hard to co-ordinate it if everyone is doing their own project', comments Rachelle Cruz, a Research Analyst at AP Securities.
Light rail spending
While much analysis of the BBB spending plan has focused on greenfield works, the government is also working with private partners to modernise the country's existing rail networks, including completion of projects started prior to the adoption of BBB.
The government's enthusiasm for infrastructure investment seems to have spurred a response from several of the Philippines' largest corporations, including San Miguel (most famous for its beer brand), Metro Pacific and Ayala Corp. All three have taken stakes as PPP partners in existing light rail networks. San Miguel has bought out the previous PPP concessionaire for the 23 km MRT7 light rail line, construction of which is now 40% complete and which is due to open by the end of next year. Meanwhile a concession to operate and extend the LRT1 line was awarded in 2015 to Light Rail Manila Corp, a joint venture between Metro Pacific and Ayala Corp. Ayala already holds a stake in Metro Rail Transit Corp, which took over the MRT3 concession in 1995.
More recently, the three corporations have expressed an interest in the Operations & Maintenance concession for NSCR. 'We will know who the operator is by next year', Batan explains. 'The idea is to have the operator on board during construction, so the interface risk, when they come in, will be minimised.
'We call it our hybrid policy, because the capital expenditures are covered by the government, so we do the building, but the operations and maintenance require nimbleness and flexibility', he adds. 'This is our government policy, not just for rail projects.'
Main line initiatives
While Japanese support features heavily in Manila's urban and suburban rail investment plans, the Duterte government retains aspirations to enlist Chinese backing for other railway enhancement projects across the archipelago under the auspices of the much-vaunted Belt & Road Initiative.
'We have a separate line of projects for China', Batan reports. 'First, a 630 km line from Manila to our southernmost province, Quezon. Another is a 70 km freight line connecting Subic Free Port with Clark Economic Zone and the third is another 100 km line in Mindanao.' The line to Quezon would include completion of the long-running rehabilitation of PNR's Main Line South between Manila and Legaspi, plus an extension to Matnog.
China Exim Bank funding would be sought for all three schemes; an initial tranche of funding worth US$220m for renovating MLS was secured during an official visit by President Duterte to Beijing in late August. 'We are actually in catch up mode still', Batan concludes. 'Even after all these projects are done there is still a lot more to build, everywhere. Our infrastructure gap is huge.'
This article first appeared in the November 2019 issue of Railway Gazette International magazine.