Austrian Federal Railways is preparing to take delivery of the first of 67 push-pull railjet trainsets able to run at 230 km/h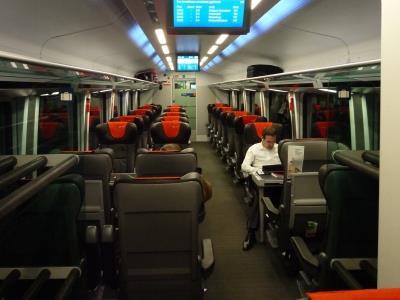 Dr Stefan Wehinger
Managing Director, ÖBB-Personenverkehr AG
WHEN EUROPE'S timetables change next month, Austrian Federal Railways and German Railway will launch a two-hourly service between Wien and Frankfurt. Using three ICE-T tilting trainsets owned by ÖBB and eight from the DB fleet, the service will offer increased comfort and better frequency on a strategic international route.
The start of the new service foreshadows the launch of ÖBB's own high speed trains in 2008. We have now had 10 years of experience with German ICE trainsets using Austrian tracks, and ÖBB will soon join the eight other countries in Europe operating trains at more than 200 km/h. Austria's first high speed service was a Hamburg – Nürnberg – Wien ICE introduced in 1998, which was diagrammed to permit a round trip to be made from Wien to Innsbruck and back before the set returned to Germany. This service was joined in 2003 by a Berlin – Innsbruck ICE and another between Dortmund and Wien, and since 2006 ICE-T tilting trains have linked Wien and Bregenz; another ICE-T service runs between München and Wien in a joint operation with DB.
Now ÖBB is investing heavily in its own fleet of high speed trains. Known as railjets, they will be able to operate at 230 km/h, adding many more destinations to the growing number of European cities served by high speed trains.
railjet is at the heart of a programme to redefine and modernise ÖBB's long-distance business. We ordered a fleet of 23 railjet trains from Siemens under a €245m contract in February 2006, and ÖBB subsequently decided to exercise a €571m option for a further 44 sets, the contract for which was signed on September 24. The first of the 67 trains will arrive in 2008, with deliveries continuing until 2014. The first set is expected to start test running next April. As they enter service, a new marketing and service concept will transform long-distance travel within Austria and to numerous destinations in neighbouring countries.
Push-pull formation
Each railjet is a fixed seven-coach formation matched with a Taurus high-performance locomotive at one end. Trainsets will not normally be split and bar couplers are fitted within the set. The decision in favour of loco-hauled push-pull rolling stock followed a detailed analysis that included evaluation of distributed power trainsets such as the ICE-T and ICE3. The railjet will be the first loco-hauled push-pull trains in the world to operate at 230 km/h.
Of the 408 seats in each formation, 16 are in Premium class, 76 in Business class and 316 in Economy. The Premium seating is located in the driving trailer, where there are four generously-dimensioned open compartments (Fig 1). Earlier designs featured saloon seating in Premium class, but this was dropped in favour of a distinctive layout offering more space and privacy to our top customers. At-seat catering is provided from a galley in the same car, which also serves Business class passengers. All Business and Economy class seating (Fig 2) is in open saloons, and Economy class passengers have access to a bistro area in one vehicle as well as a trolley service.
In designing the railjet concept, we paid particular attention to the special needs of different groups of passengers, including catering provision for mobility-impaired passengers. Spaces are provided for three wheelchair users, who will use a staff-operated onboard lift to board or leave the train. Each wheelchair location has an emergency call facility and another button to summon staff who will serve drinks and food. Each wheelchair space also has a power point to recharge wheelchair batteries.
Several seats are provided for blind or partially-sighted passengers with guide dogs or companions, and the interior design uses tactile features to help them navigate about the train. Storage areas for prams and pushchairs are provided, and there is a cinema area for children.
Seat design reflects the latest ergonomic knowledge, and a range of lighting features has been chosen to enhance the onboard ambience. Luggage storage has been arranged so that passengers can monitor their bags from their seats.
Doors between saloons are automated, and the 800 mm width ensures that it is easy to move along the train.
Electronic passenger information displays feature throughout the train, and each set has 80 screens to inform passengers about the next station stop and available connections using real-time data transmitted to the train by GPRS. Between stations the screens display the train's speed and its location on a map. Provision is being made for a media server to be installed, allowing a digital video service of short films or tourist information to be offered in the future.
Electronic seat reservation displays controlled from eight onboard computers will be used, and staff will access the system from a console in the bistro car.
Service patterns
The first railjet trains will enter service at the end of 2008 between Budapest and München, offering six return trips a day in each direction, plus one Wien – Budapest infill turn. This will be followed by Wien – Zürich and Wien – Bregenz at the end of 2009. The planned Wien – Zürich timing is 7 h 50 min from 2010.
In 2010 we plan to expand railjet services from Wien to Villach, Klagenfurt and Graz, with some trains continuing to major cities in Slovenia, Croatia and Italy. Several options are being evaluated, and one would see hourly trains run from Wien to Graz, with some trains continuing to and from Zagreb or Ljubljana; other services could include a two-hourly service from Wien to Villach, with some crossing the border to reach Venezia. At the same time, frequencies would be stepped up on the Westbahn. As railjet services are introduced, we expect traffic to grow by 1·3 million trips a year.
Construction
Components for the railjet bodyshells are fabricated in the Siemens factory in Maribor, Slovenia. A conventional steel ribbed shell is used, with the underframe designed to carry all longitudinal forces; it also supports the brake gear and air-conditioning packs, batteries and water tanks.
Once the roof, sides, end walls and underframe are complete, they are packed and shipped to Wien by Rail Cargo Austria. There Siemens is assembling the first three trainsets in its Simmering works, after which assembly will be handled by ÖBB Technische Services.
Siemens has subcontracted manufacture of the streamlined end of the driving trailers — which will match the design of the Taurus locomotives — to ÖBB Infrastruktur Bau; this is the only mechanical component not sourced from Siemens.
The cars will be mounted on SF400 bogies with secondary air suspension, and all bogies except the leading bogie on the driving trailer will be fitted with electromagnetic rail brakes.
Traction will be provided by Taurus locomotives. ÖBB has a fleet of 382 Taurus locos, of which 50 form Class 1016 with operation restricted to lines electrified at 15 kV 16·7 Hz. There are 282 locos of Class 1116 which can also operate under 25 kV 50 Hz catenary, and 50 Class 1216 four-system locos which can additionally accept 1·5 kV DC and 3 kV DC power supplies. railjet services will only be worked by the two classes of multi-system loco.
Acceleration on the Westbahn
In due course railjet trains will take over most of the long-distance services using the Westbahn from Wien to Salzburg. This railway is the central component of ÖBB's plans for high speed operation, and already more than 100 km is cleared for trains to run at 200 km/h. The speed potential of the route is, however, much higher, and this was proven during extensive trial runs in September 2005. Using DB's ICE-S test train, the superstructure and overhead contact wires were tested at very high speeds, and on September 3 that year the ICE-S set a new Austrian speed record of 305 km/h. Later, acceptance trials were carried out with an ICE1 at 280 km/h, which seemed almost routine in comparison.
Currently we are working intensively on further development of the Westbahn to permit a maximum speed of between 200 km/h and 250 km/h over most of the line by 2012. This will reduce the travel time from Wien to Salzburg from 2 h 40 min at the moment to approximately 2 h 20 min. Ultimately, ÖBB will have around 250 km of route where railjets will be able to operate at high speed.
Table I. Main data for railjet rolling stock
| | |
| --- | --- |
| Overall length of seven-car set with loco m | 205 |
| Driving trailer length mm | 26 850 |
| Intermediate car length mm | 26 500 |
| Distance between bogie centres mm | 19 000 |
| Bogie wheelbase mm | 2 500 |
| Wheel diameter, new mm | 920 |
| Door width mm | 850 |
| Weight of driving trailer tonnes | 50·9 |
| Weight of intermediate car tonnes | 47 |
Table II. railjet suppliers
| | |
| --- | --- |
| Main contractor | Siemens |
| Assembly of 64 trainsets | ÖBB Technische Services GmbH |
| Bogies | Siemens |
| Brake equipment | Knorr-Bremse |
| Inter-car gangways | Ultimate |
| Doors | IFE |
| Seats | Grammer |
| Air-conditioning | Liebherr |
| WC modules | Frensistemi |
CAPTION: ÖBB's distinctive railjet branding is likely to feature prominently on the trailer cars of the railjet sets
CAPTION: The first railjet bodyshells have been completed; the sides, roof, underframe and car ends are fabricated at the Siemens plant in Maribor, but vehicles for the first three sets are being assembled in Wie
CAPTION: ÖBB selected the red railjet livery conceived by designers Eduard Glanzer and Daniel Huber after outshopping three Taurus locomotives in different styles and asking 16 000 staff and readers of its house journal to vote for their favourite. The red option proved most popular
CAPTION: Fig 1. Driving trailers will have 16 Premium and 11 Business class seats. The galley located in the Business class area will serve all seats in this vehicle and the adjacent business class car with 65 seats
CAPTION: Fig 2. Economy class intermediate car with 80 seats; this vehicle has electromagnetic rail brakes
CAPTION: Premium class passengers will enjoy a contemporary and spacious ambience in open compartments with either three or four seats; newspaper service and at-seat catering will be offered
CAPTION: Economy class seating is in open saloons in 2+2 formation. Of the 408 seats in each seven-car railjet set, 316 are in Economy class
railjet va démarrer l'année prochaine
Les chemins de fer fédéraux autrichiens se préparent à prendre livraison en 2008 de leur première rame réversible railjet. Après avoir commandé 23 rames de sept voitures en février 2006, les ÖBB ont validé l'option pour 44 rames supplémentaires en septembre de cette année. A partir de 2012, le parc de 67 unités remorquées par des locomotives Taurus, sera en mesure de rouler jusqu'à 230 km/h sur la ligne principale entre Wien et Innsbruck, accélérant ainsi les relations inter-city à la fois intérieures et internationales. Les destinations des railjet comportent Zürich, München, Venezia, Zagreb et Budapest. Le fournisseur de matériel roulant Siemens fabrique les pièces à Maribor, en Slovénie, et assemble les premières voitures railjet dans ses ateliers de Simmering, à Wie
railjet startet nächstes Jahr
Die ÖBB bereiten sich auf die Ablieferung der ersten railjet Wendezüge im Jahre 2008 vor. Nach einer Bestellung von 23 7-Wagen-Zügen im Februar 2006 übte die ÖBB im September dieses Jahres eine Option über weitere 44 Züge aus. Ab 2012 wird diese 67 Einheiten umfassende von Taurus-Lokomotiven angetriebene Flotte die Hauptstrecke von Wien nach Innsbruck mit bis zu 230 km/h befahren und damit nationale und internationale Eurocity und Intercity-Dienste beschleunigen. railjet-Destinationen umfassen Zürich, München, Venezia, Zagreb und Budapest. Der Rollmateriallieferant Siemens stellt Komponenten in Maribor in Slowenien her und führt die Endmontage der erste railjet-Wagen im Siemens-Werk in Wien-Simmering durch
railjet empieza el próximo año
Los Ferrocarriles federales austriacos se preparan para recibir en 2008 el primer tren reversible railjet. Después de haber pedido 23 composiciones de siete coches en febrero de 2006, la ÖBB adquirió otros 44 trenes en septiembre de este año. A partir del año 2012, el parque de 67 trenes propulsado por locomotoras Taurus será capaz de desplazarse a una velocidad maxima de 230 km/h en la línea principal entre Wien y Innsbruck, con lo que se aceleran servicios inter-city domésticos y internacionales. Los destinos de railjet incluyen Zürich, München, Venezia, Zagreb y Budapest. Siemens, constructor del material rodante, lleva a cabo la producción de componentes en Maribor, capital de Eslovenia, y construye los primeros coches railjet en la planta de Simmering, en Wien